NBA Trade Rumor: Lakers Show Early Interest in Blazers' Carmelo Anthony Ahead of Off Season
Published 06/22/2021, 9:53 PM EDT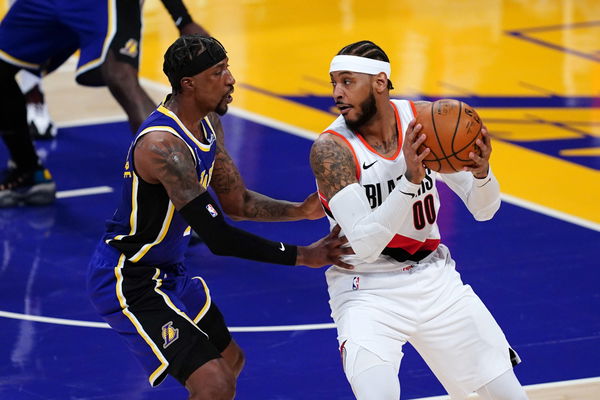 ---
---
The Lakers, in the last off-season, lost more than they gained. Rob Pelinka and Jeanie Buss seemed to have tested a hypothesis, and it failed as the Lake Show ended way before its time. So now, the onus is on the front office to go back to the workshop and put a new and replenished unit in the mold.
ADVERTISEMENT
Article continues below this ad
Presently, rumors are swirling that the Lakers are going to let go of Kyle Kuzma in a package deal to attract better talent. It is quite clear that the LA-based franchise wants to win big right now rather than investing in building a team for the future. So does this mean an entry of more war veterans? Perhaps.
The Lakers have a Blazers' star on their trade target
ADVERTISEMENT
Article continues below this ad
The Lakers' target is easy to guess; it is Carmelo Anthony and the Lakers are reportedly hunting the league veteran with all their might. As per seasoned journalist Evan Massey, "NBA Analysis Network spoke to a source that stated that the Lakers are expected to pursue Anthony in free agency."
Now, Carmelo, a #3 pick from the same draft that introduced LeBron James to the world, is certainly a great choice. It is true that Melo is 37-YO and his gameplay is nowhere as good as it was some five years ago when he was a Knicks player. Plus, he does not have much basketball left in him and it can be a gamble to place bets on him. But one must note that there still are more positives than negatives when it comes to his potential signing.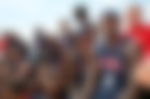 Why is a Carmelo Anthony move so lucrative?
The 10x All-Star was in the race to win the 6MOY award that eventually went to a well-deserving candidate in Jordan Clarkson. Melo is now well past his forgetful Rockets days. In the 2020-21 season, he reintroduced himself as a shooting expert and helped the Blazers almost scare the Nuggets in Round 1. 
ADVERTISEMENT
Article continues below this ad
The Hoodie Melo averaged 13.4 points, 3.1 rebs, and 1.5 assists while shooting at a career-high 40.9% from downtown this season. He had become the Blazers' go-to guy when they were shorthanded with no CJ McCollum and Jusuf Nurkic. It was because of him and Damian Lillard that they could grab the #6 seed.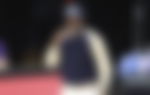 Additionally, if those weren't good enough reasons, the veteran is a close friend of LeBron James. The two have their kinship going back two decades now and it will be great if they can finally play together. Plus, the Lakers' frontcourt rotation would immensely benefit from this trade.
ADVERTISEMENT
Article continues below this ad
Watch this story – Off Season Point Guards Lakers Need to Keep an Eye On