NBA Trade Rumors: Here's Why Bradley Beal is Unlikely to Reunite With Close Friend Jayson Tatum at Boston Celtics
Published 07/26/2021, 12:16 AM EDT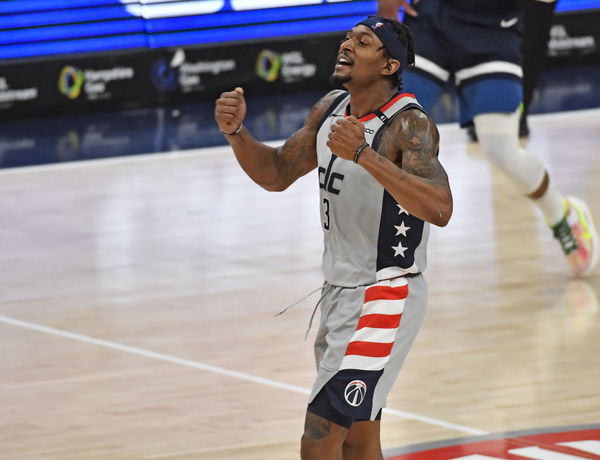 The news on Bradley Beal and the Boston Celtics keeps growing as time passes by. There were reports that Beal may request a trade from Washington Wizards because he wants to compete for a championship. He has been giving it his all for the Wizards.
Beal had the second highest scoring average this season. Moreover, he was one of the two players to average over 30 points in the regular season along with Stephen Curry.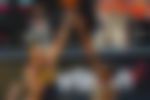 Now, with the reports of a possible Bradley Beal trade in the air, many teams showed interest. However, the names that came up front are the Golden State Warriors and the Boston Celtics.
ADVERTISEMENT
Article continues below this ad
Lowe believes Celtics won't offer Jaylen Brown
On ESPN's Woj and Lowe special, there were talks revolving around a possible Beal trade in the near future. Lowe seems to believe that the Boston Celtics will not offer All-Star Jaylen Brown to trade for Beal. He said:
"Is Boston going to offer Jaylen Brown? I don't think so. To me there's not much in giving up one star for another if you are Boston."
Zach Lowe just now on ESPN's Woj & Lowe special regarding Bradley Beal:

"Is Boston going to offer Jaylen Brown? I don't think so." pic.twitter.com/eOvSv7Tu7u

— Chris Grenham (@chrisgrenham) July 25, 2021
This is a fair argument because for Boston to compete, they require their young duo of Tatum and Brown. The Celtics will most likely try to form a scoring trio of Bradley Beal-Jayson Tatum-Jaylen Brown. Brown was absent from the playoffs for Boston due to a wrist injury.
Prior to his injury, he averaged 24 points, 6 rebounds and 1 steal per game. He made his first All-star appearance this season as well. He is also a great shooter as he shot almost 40% from deep. Moreover, he is only 24 years old. So, it is highly unlikely that Boston will give up on Brown.
What will Boston have to give up for Bradley Beal?
With the Celtics trying to put up an All-star trio in the next season, what will they have to give up in order to land Beal?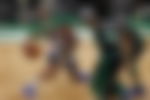 Celtics are trying to add yet another banner in the TD Garden as they try to strengthen their roster. However, in order to acquire Bradley, they will have to give up a few players, old and new. They will most likely have to give up new signing, Evan Fournier, and veteran point guard, Marcus Smart, to acquire Bradley Beal.
In this way, the Wizards receive two quality players and the Celtics add to their already hot scoring firepower. Boston may also offer a few future picks as well to make sure the trade goes through.
ADVERTISEMENT
Article continues below this ad
However, it will be extremely tough for the Celtics to pull off this trade without offering Brown. If they do land Bradley Beal in Boston, their offensive skill set will be threatening to the entire league.
Would you like to see Beal play with Tatum and Brown next season? Let us know in the comments
ADVERTISEMENT
Article continues below this ad
WATCH THIS STORY-  List of Point Guards the Lakers Will Keep an Eye on This Off-Season