NBA Trade Rumors: Kawhi Leonard might join LeBron James and Lakers – predicts NBA Analyst
Published 07/05/2021, 10:20 PM EDT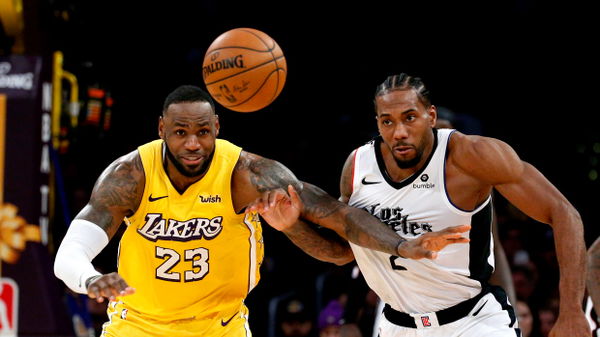 ---
---
The 2020-21 NBA season is about to end. As the transition from Finals week to the off-season continues, Clippers superstar Kawhi Leonard has once again created headlines. With Kawhi's future with the L.A. Clippers uncertain, the rumor mill is buzzing. Most league experts believe Leonard will opt out of his player option and re-sign with the Clippers.
ADVERTISEMENT
Article continues below this ad
But, if Kawhi's reputation, especially after a championship in Toronto is anything to go by, his future with the Clippers is anything but certain! In fact, there are sources who believe Kawhi might just up and leave to walk across the hall to the rival Lakers! The typical off-season season usually sees a mixed bag of emotions with fans across franchises.
ADVERTISEMENT
Article continues below this ad
It is destinations galore for the 30-year-old superstar who is currently riding the highs of his prime. But, the only factor that works against Kawhi is his record with injury. The superstar is rather injury-prone and has always depended on exercising load management to play through a season.
As basketball aficionados will recollect, the handling of injuries has played a significant part in determining Kawhi's future with a franchise.
The mistrust between Kawhi and the Clippers medical camp over his knee Injury is eerily going down the same road which led him to request a trade from San Antonio while recovering from a quadriceps injury.
Expect the unexpected from Kawhi Leonard
The Dallas Mavericks and the Miami Heat have emerged as potential destinations for Leonard if he chooses not to re-sign on a bigger contract. But, veteran analyst Skip Bayless believes otherwise!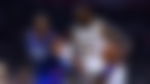 In a recent episode on 'Skip and Shannon: Undisputed', Bayless aired rumors saying "If I suddenly heard that Kawhi had joined the Lakers, I would not be shocked by that. Cuz I was shocked when I found out that he didn't join the Lakers in July 2019."
Bayless further added – "So would it be a joke if he suddenly said now I wanna sign with the Lakers? No wouldn't shock me a bit. I'll go with you, I'll take 75% he'll stay with the Clippers."
While Kawhi reportedly has shown interest in the past to team up with Jimmy Butler and Bam Adebayo in Miami, there is no outcome that looks likely at the moment! Undisputed co-host Shannon Sharpe also added that "No one knows what Kawhi is gonna do but probably him and Uncle Dennis."
ADVERTISEMENT
Article continues below this ad
If anything, the Clippers this post-season broke their ceiling without Kawhi. And with him healthy, it positions them as title favorites along with the Nets and Lakers. Currently, all signs point towards him staying with a team where he is face of the franchise.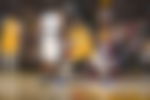 But, would it really be a surprise if he were to remain in L.A, but don the purple and gold? Laker Nation would certainly hope so, given that Leonard is a 24.8ppg/6.5rpg/5.2apg terminator, someone the Lakers would love to have alongside LeBron James and Anthony Davis.
ADVERTISEMENT
Article continues below this ad
Watch this story – Paul George's Incredible Performance, Devin Booker's Buzzer By Half time, & Other LA Clippers vs Phoenix Suns Game 5 WCF Highlights.