NBA Trade Rumors: New York Knicks Have Emerged As Top Suitor For Cavaliers' Collin Sexton
Published 07/13/2021, 11:00 PM EDT
---
---
The New York Knicks surpassed all expectations in the 2020-21 season. Not only was their regular-season record 41-31, which landed them in the fourth-seed, they were also able to crack the playoffs. Even though they were eliminated in the first round itself by the Atlanta Hawks, they are way ahead in their rebuild as a contender as one would have thought. And another step towards that might be by signing Collin Sexton.
ADVERTISEMENT
Article continues below this ad
Why will the Cleveland Cavaliers give up Collin Sexton?
Any point guard that is available in the trade market this offseason, the Knicks will have their eye on them. The Knicks relied majorly on Elfrid Payton as their starting point guard and that worked wonders for them. However, Derrick Rose, Payton, and Alec Burks are all set to hit the free-agency market as well. So, getting a PG will be their top priority.
ADVERTISEMENT
Article continues below this ad
With that in mind, a recent report has indicated, "The Knicks are the most aggressive trade suitor for Cavaliers guard Collin Sexton. Sexton is eligible for his rookie extension this offseason. And with one year left on his deal, it allows Cleveland to continue to be patient in constructing the roster."
While adding Sexton would make a lot of sense for the Knicks, why would the Cavaliers want to rid themselves of an electric scorer like him? To unburden themselves from future financial complications, getting rid of Sexton is the best solution. Also, the Cavaliers still need to continue to build a better roster since they were hardly alive this season as well.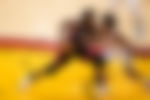 WATCH THIS STORY: Michael Jordan's Fadeaway, Allen Iverson's Crossover & Other Iconic Signature Shots in the NBA
How does Sexton fit in with the Knicks?
In exchange for Collin, the Knicks could offer the No. 19 and 21 overall picks in the 2021 NBA Draft to the Cavs. Along with it, Immanuel Quickly and a 2023 first-round pick could be added to the package as well. This way, the offer is reasonable and the Knicks don't have to give up their biggest superstars like Julius Randle and R.J. Barrett.
ADVERTISEMENT
Article continues below this ad
The 24.3 points per game, 4.4 assists, and 3.1 rebounds point guard can be a great addition to Tom Thibodeau's intense roster. Collin isn't perfect but no one can deny that he works very hard. His inconsistent defense is one that needs attention. But that also might have to do with the offensive burden that he had to take on in Cleveland.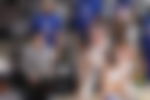 Undoubtedly, the Knicks are an elite defensive franchise, and Sexton can thrive in it. But is a premature trade a smart decision for the Knicks? Or should they wait for the offseason that will have more PGs in free agency, NBA draft, and more trade opportunities to nab?
ADVERTISEMENT
Article continues below this ad