NBA Trade Rumors: Blazers' Damian Lillard on the Watchlist of At Least Six Teams Including Lakers
Published 06/04/2021, 10:44 PM EDT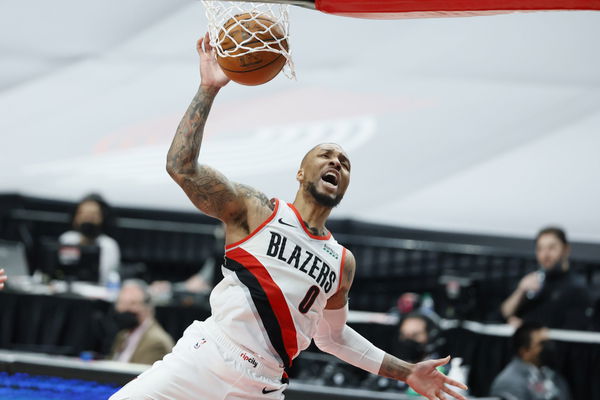 ---
---
Fortune continues to play foul in the life of Damian Lillard who still cannot overcome the postseason curse. The Blazers are out of the NBA playoffs 2021 after putting up a brilliant series, mostly because Dame lacked helping hands. 
ADVERTISEMENT
Article continues below this ad
Logo Lillard was so effective in the series against the Nuggets that an upset was very much possible. However, their defense fell short and failed to handle the force of Nikola Jokic and Michael Porter Jr.
So now, after yet another poor end to a glorious season, Lillard's name is back in the trade rumors.
ADVERTISEMENT
Article continues below this ad
Half a dozen teams interested in Damian Lillard
In the 2020-21 regular season, CJ McCollum (47) and Jusuf Nurkic (37) sat out for a long stretch as Damian Lillard (along with Carmelo Anthony) did all the heavy lifting alone. Even under one such situation, the Blazers did not have to participate in play-in to prove they deserved a playoff berth.
This alone proved how Dame is a one man army. However, playoffs do not work that way, and it's sad that Dame had to face his career's fifth first-round loss. 
So it's only valid to think that Dame needs a better place if he wants to do justice to his caliber. In a recent interview, NBA analyst Stephen A. Smith revealed how at least six to seven teams are on the lookout for his services. 
The 53-YO revealed how teams like Miami Heat and both the LA franchises might show an interest in the 6x All-Star. Notably, the Big Game Dame enjoyed career-best playoff numbers in the last six games, averaging 34.3 points, 10.2 assists, 4.3 boards, and a steal at 44.9% three-point shooting.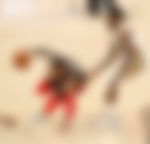 Will the Blazers star really consider leaving?
Well, assuming that his recent Insta post was just a reaction after a frustrating loss, the star might not want to give up on the Blazers yet. Why? Because it is his own franchise, and it is his hard work for the last nine years that has put them in a strong place. 
However, the problem with Terry Stotts' side is the unavailability of enough cap space to acquire big talents. They've already shelled out a lot into the long-term contracts of Damian Lillard and CJ McCollum, while a big chunk went into Nurkic's account.
Plus, Portland is not an attractive free agency destination, and it's tough to place important pieces around Lillard.
ADVERTISEMENT
Article continues below this ad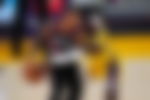 Now, if we consider Logo Lillard's friend, Bradley Beal, joining them, the Blazers might have to shell out Nurkic to make the two-way or three-way deal any interesting. Plus, since they do not have a first-round pick this summer, they have limited options to build a package or a new team.
Amidst all this, Lillard is already under contract for the next three years with a $54 million PO in his fourth. So, for a team like Miami Heat to sign him, they'll need to put a huge sum on the table.
ADVERTISEMENT
Article continues below this ad
Considering they're not letting Jimmy Butler and Bam Adebayo out, how can they attract Lillard? Help us with your important opinion in the comments.
Watch this story – Off-season Trades That Proved Blessing in Disguise