NBA Trade Rumors: Should the Lakers Trade for Russell Westbrook This Off-Season?
Published 07/22/2021, 12:01 AM EDT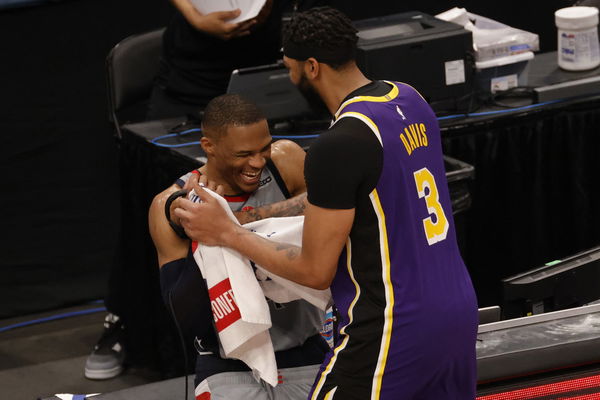 ---
---
In a league where championships don't come easy, having won 17 of them, the Lakers know what it's all about. And for a team that was coming off the highs of a championship looking to repeat, the 2020-21 season was an aberration. While L.A. saw both their superstars nurse serious injuries in the 'road to repeat' season, it was the 'next man up' mentality for Laker Nation all season.
ADVERTISEMENT
Article continues below this ad
Even though L.A. came swinging right out of the gate with a 21-6 record to top the West, injuries dictated the outcome rest of the season, as Phoenix beat the breaks of them in the 1st round. Now, it's back to the drawing board for GM Rob Pelinka and the front office, as they look to capitalize on the generational talent they possess in James and Davis.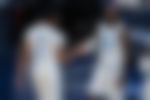 L.A. are actively shopping for an A-list point guard, as they look to potentially replace Dennis Schroder next season. Schroder has made his asking price abundantly clear, eyeing a 100-120 million $ deal this offseason.
ADVERTISEMENT
Article continues below this ad
However, if the Lakers are seriously considering targeting a top tier guard, all potential deals include a sign-and-trade scenario for Dennis.
Lakers targeting Mr. Triple Double
Is Broadie coming to L.A? Recent reports suggest that the front office is actively considering a package which includes Dennis Schroder and Horton Tucker via a sign-and-trade and Kyle Kuzma in a deal for Wizards star Russell Westbrook.
Report: Lakers have discussed sign-and-trade with Dennis Schroder, Kyle Kuzma and Talen Horton-Tucker for Russell Westbrook https://t.co/NjWsHq42E5

— NBA Central (@TheNBACentral) July 21, 2021
Marc J. Spears recently broke this story, as he aired the rumors saying – "There have also been talks about Washington Wizards star Russell Westbrook being a potential candidate to move back home to Los Angeles in a sign-and-trade deal that could include free agent point guard Dennis Schroder, forward Kyle Kuzma and guard Talen Horton-Tucker, sources said."
This offseason will provide a blueprint of L.A.'s succession planning. Talen Horton Tucker is a free agent this offseason, and Pelinka has shown clear intentions to sign the rising star. But given that the franchise pulled out of a done deal with Toronto's Kyle Lowry over their refusal to let go of THT, chances are slim.
Given Russ' contract and salary earnings of over 90 million over the next 2 years, a sign-and-trade involving Schroder and THT along with either KCP or Kyle Kuzma is the only way forward.
While Mr. Triple Double averaged over 22.2ppg/11.5rpg/11.7apg in the past season with Washington, he and the Lakers share 1 unfortunate characteristic. Shooting is the common Achilles heel. With other teams loading up on shooting and wing depth, is a star who disappears in the playoffs worth it?
To L.A. next?
ADVERTISEMENT
Article continues below this ad
While the proposed Westbrook trade is highly lucrative on paper, it only partially answers the Lakers' shooting woes. And even though the probability of acquiring a star guard looks slim, Pelinka needs to play the waiting game.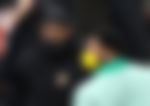 However, it would be in L.A's best interest to re-sign Schroder and other assets if a potential A-lister like Bradley Beal becomes available. Besides, given Westbrook's playoff history, it's all a gamble. But, is it a gamble that Pelinka is willing to take?
ADVERTISEMENT
Article continues below this ad
Trade season coming up next.
Watch this story – Best Posterizing Dunks By LeBron James Lakers NBA News