NBA Trade Rumors: Warriors' Draymond Green a Target for Damian Lillard Since the Last Two Years
Published 01/07/2021, 12:23 AM EST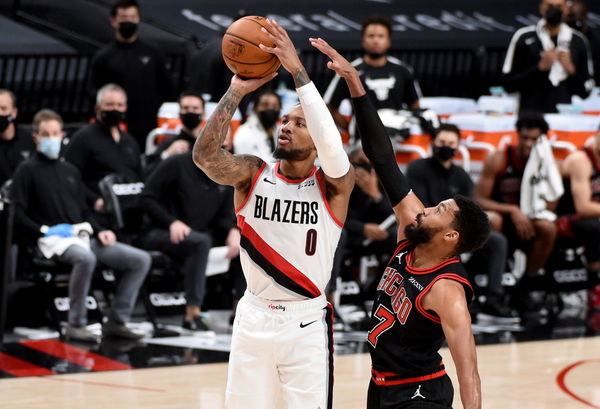 ---
---
The Portland Trail Blazers have had a mixed start to their season. While Damian Lillard and CJ McCollum have been solid offensively, their bench and their defense have let them down.
ADVERTISEMENT
Article continues below this ad
They now have a record of three wins in the seven games they have played. After a solid display in the first match against the Warriors, the Blazers suffered from a disappointing loss in the second game.
Steph Curry who scored a staggering 62 points, spelt doom for a struggling Blazers. While Curry took charge offensively, the return of Draymond Green brought much more solidity to Warriors' defense.
ADVERTISEMENT
Article continues below this ad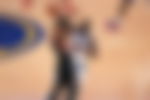 His performance in the second game against the Blazers was very impressive. He clamped down on Lillard which was key in limiting their offense.
The Athletic's Sam Amick, in a recent episode of The Athletic NBA Show podcast, said that Lillard wanted a trade for Draymond to the Blazers.
He said, "If we were handicapping Draymond trade destinations if the Warriors decided to blow it up…that's the one. Damian and his group have for the last couple years been campaigning for that,"
Over the years, the Portland TrailBlazers have solidified themselves as a great offensive team, but their main problem has been their defense. A player like Draymond Green could have been the answer to all their problems.
Are Damian Lillard & the Trail Blazers sleeping giants of the West?
The Trail Blazers roster was plagued with multiple injuries. They were without their starting center, Jusuf Nurkic, who joined them later in the Orlando Bubble.
Rodney Hood also missed the entire season as he tore his Achilles tendon. Even Lillard and McCollum missed some games leading to a disappointing record in the West.
They have also re-signed some crucial players like Carmelo Anthony and Rodney Hood this off-season. They also added a tenacious 3&D player in Robert Covington who provides a much-needed boost to their defense.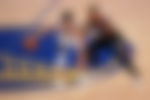 If Damian Lillard can maintain his monstrous numbers from the bubble, there is no stopping him from being a favorite in this year's MVP race.
ADVERTISEMENT
Article continues below this ad
The Blazers and their new additions are clearly adjusting to a new system. Once the players are acquainted with the new system, we might see a much better Blazers side in the near future.
The West is stacked with multiple teams fighting for the playoffs. Given that Lillard and Co. can stay healthy, the Blazers will be a great competition against any team they face.
ADVERTISEMENT
Article continues below this ad