NBA Trade Rumors: How Lakers Can Acquire Kyle Lowry and DeMar DeRozan in the Upcoming Off-Season?
Published 07/10/2021, 10:56 AM EDT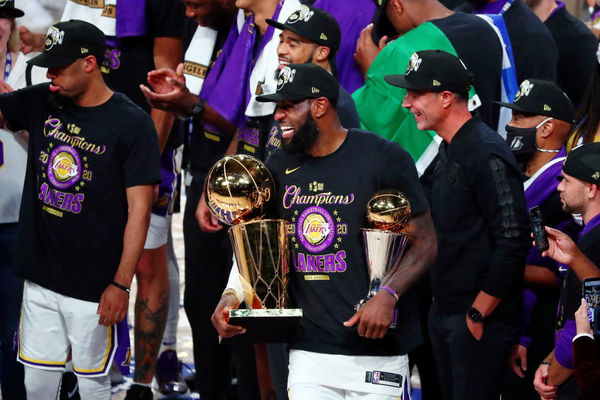 ---
---
The 2021 NBA season was a total disappointment for the 17-time champion LA Lakers. The Purple and Gold, following a 2020 championship run, entered the season, primed to repeat as champions with the dynamic duo of LeBron James and Anthony Davis. Instead, they now find themselves in a spot, eerily similar to the events of the 2018-19 season.
ADVERTISEMENT
Article continues below this ad
But, as Laker Nation would remember, the 2018-19 season failure brought Davis to LA! And following an early flameout against Phoenix, GM Rob Pelinka, and the front office will be rearing to shed the deadweight and storm back into title contention. In a season dictated by injuries to LeBron, AD, and other pieces in key moments, the gaps in LA's roster were glaring.
ADVERTISEMENT
Article continues below this ad
In fact, many league experts believe LA missed a trick to fix the gap, as they pulled out of a trade for veteran champion Kyle Lowry. And even though Lowry comes with his fair share of issues, championship experience with Toronto is hard to ignore!
Furthermore, a bonafide super-star signing with the LakeShow is highly unlikely, especially given the Lakers' cap space. And while free agency is still a month away, trades rumors involving the Purple and Gold are flying all over the league.
One of these rumors in fact predicts a Lakers trade for San Antonio Spurs star DeMar DeRozan. And while highly restrictive, there is a scenario where-in the Lakers can land both DeRozan and Kyle Lowry!
The Lakers Roster rebuild
The franchise will actively target the entire roster rebuild to cost them between the $140-142million slab. While LA will actively focus on loading up their roster, the front office will monitor the hard cap limit as they enter any negotiation.
Coming to the roster breakdown, the LeBron James and Anthony Davis contracts themselves take up 50%, as the duo will be worth $76 million next season. Furthermore, the management will have an eye on the futures of guards Alex Caruso and Horton Tucker who have shown immense growth potential in their time with the LakeShow.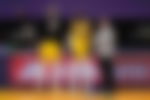 Will They? Won't They?
If LA indeed does plan to pursue the Lowry-DeRozan duo, they face some hard choices and tough conversations ahead! It involves a 3-step process which, if executed perfectly, would see them both with the LakeShow –
Step 1. Considering the tight cap-space and Lowry's demands of a 2-year 50-million $ deal, it will require Pelinka to orchestrate a trade that sees Caldwell Pope and Kyle Kuzma shipped to Toronto. Kuzma and KCP, both worth $26 million, create enough room to sign the veteran.
Instead, would he be willing to take a haircut on his earnings, to re-unite with DeRozan and play with LeBron and AD? Or, would he opt for security, in a 3-year $60 million deal?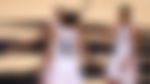 Step 2. Coming to DeMar DeRozan, the only way to fit both under the cap is if DeRozan were to agree to a mid-level exception, way below his talent level (averaging 21.6ppg/4.9rpg/6.2apg), or regular pay-grade!
While it's highly unlikely, will he accept the deal in a go back home and win now approach? DeRozan fits the bid as he solves some of LA's problems with facilitation and the mid-range game.
Step 3. If both deals come through, that only leaves roughly $10 million for the Lakers remaining roster spots, as both rising stars Alex Caruso and THT will look for a major pay-day.
If the retention costs LA between $10-18 million combined, it leaves the franchise with only $8-10 million for the remaining 8 roster spots! The deal only works, if veteran players including Markieff Morris, Marc Gasol, Wes Matthews, and others alike agree to those terms.
A Lowry-DeRozan re-union?
NBA Analyst Bill Simmons recently aired Laker trade rumors, when he said – "The DeRozan stuff has started both on the internet and in NBA whisper circles there's DeRozan buzz. And I don't think they can be counted out on the Lowry sign-in trade either"
ADVERTISEMENT
Article continues below this ad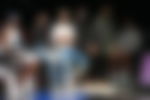 While a roster with Lowry, DeRozan, LeBron James, and Anthony Davis looks highly intimidating on paper, these acquisitions do not solve the Lakers Achilles heel, which was the 3-pt shooting. With DeRozan shooting only 25% from beyond the arc, Pelinka would have to ensure that they compose the remaining roster spots of pure 3-pt knock-down shooters!
Thus, this off-season poses some serious questions for LA. Do they follow the Brooklyn Nets model of roster composition, or do they hunt for pure facilitators and 3-pt shooters for the 2021-22 season?
ADVERTISEMENT
Article continues below this ad
Watch this story – Kobe Bryant Stats Top Scoring Games Of Lakers Legend In Stories
Trending Stories