NBA Twitter At Its Ruthless Best Following DJ Khaled's Hilarious Attempt at the Skills Challenge
Published 02/18/2022, 9:54 PM EST
After a long streak of competitive games, the NBA finally heads into the All-Star Weekend. With various events on cue, different players are set to show their talent. However, before they got on to it, famous singer DJ Khaled had to give it a shot. He tried out the skills challenge and it's safe to say that he didn't quite understand the rules.
The All-Star weekend has some fun events lined up. It turns out to be a good break for the players as they get to dial out during the weekend. Moreover, there is also the break that follows which allows teams and players to regather themselves.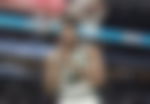 So, with the skills challenge as one of the headliners, DJ Khaled gave everyone a sneak peek of what to expect.
ADVERTISEMENT
Article continues below this ad
NBA Skills Challenge features 'Another One'?
To start it off, Khaled came in strong dribbling the ball. However, he failed to take in the concept of going around the mannequin. Instead, the famous singer followed right by them. Then he went to the free-throw line to finish and air-balled the first one. But he didn't lose hope and sinked in his next attempt. NBA Twitter went wild over this attempt.
Khaled gave a great sneak peek into the skills challenge for this season. While he didn't do the complete course, he sure gave the fans what they wanted. But for the players, completing the challenge is not as easy.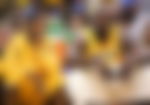 The skills challenge has always seen some wild endings through the years. It may come with half-court shots or a great run-through altogether. Similar to every year, the NBA has an amazing lineup of players ready to go. But this year the format has some changes.
ADVERTISEMENT
Article continues below this ad
Who will take on the Skills challenge?
This year has an exciting lineup with a completely new format. The challenge will have three teams including the Antetokounmpo brothers, a trio of rookies, and Cleveland's own trio. Each team will compete in shooting, passing, and dribbling challenges to see who comes out on top.
ADVERTISEMENT
Article continues below this ad
Led by Giannis, his team comprises his two brothers, Thanasis and Alex. The Cleveland trio consists of two All-Stars, Garland and Allen as well as the rookie Evan Mobley. The Rookie team, however, looks at Cade Cunningham, Scottie Barnes, and Josh Giddey.
With the new format to debut this week, are you excited for the Skills Challenge? Let us know in the comments below.