NBA Twitter at Its Savage Best After DJ Khaled Tries to Inbound the Ball During Heat vs 76ers Game 5
Published 05/11/2022, 1:00 PM EDT
With NBA being one of the world's most popular leagues, celebrity fans and followers are no surprise. This long list includes DJ Khaled, who is a dedicated Miami Heat fan. The DJ loves the Heat with all his might, constantly present at games and cheering the team.
The playoffs, of course, were no exception.
ADVERTISEMENT
Article continues below this ad
This month's playoffs are no exception. The Miami Heat are currently facing the Philadelphia 76ers, hoping to reach the Conference Finals with a 3-2 lead. Khaled's presence at courtside was obvious, ready to support his team to the fullest. Naturally, NBA Twitter had some things to say about Khaled and his excited self at the game.
What are fans saying about DJ Khaled at the Heats-76ers game?
During the recent Heat game, Khaled was seen holding the ball for inbound. The 46-year-old handed the ball over to Max Strus, even the commentators speaking about the same. Khaled, as per people, was looking for the assist by handing the ball over.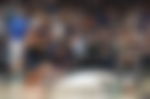 Khaled seemed extremely excited over the game, even clapping and patting Strus on the back.
Fans, of course, had some words to exchange online.
Yeah, kinda tired of the DJ Khaled antics. Dude ain't got any business being on the sideline and messing with the ball on an inbound.

— Brandon Bigdeek (@BuckeyeDawg614) May 11, 2022
touched the ball before simmons

— Cam 🇧🇿 (@xCamSznx) May 11, 2022
He's skinner than Harden

— Chuck and the Creepy Baby from New Orleans (@guythanosddd) May 11, 2022
he wanna be drake so bad

— playboi carti stan (@kaweary) May 11, 2022
With the way fans have commented, it is clear that most just want to have fun with Khaled on the sidelines. A very few of them were serious, wondering why he was so into it while the player waited. However, most of them took the situation lightly.
Certain people ended up comparing him to Drake, believing that Khaled wants to be Miami's global ambassador. Drake, who is known to support the Toronto Raptors, is also the team's ambassador. With Khaled being present to watch games all the time, people think he wants to become exactly like Drake.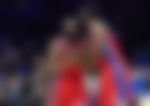 Can the Heat win?
ADVERTISEMENT
Article continues below this ad
Looking at their Game 5 120-85 victory, the Heat are on their way to winning another series this postseason. They have secured a 3-2 lead, and are trying to overcome the 76ers. Jimmy Butler took charge with 23 points to his name, working past the previous two straight losses. Additionally, all other starters also ended up scoring in double digits for the team.
WATCH THIS STORY: Michael Jordans NASCAR Team 23XI Racing vs LeBron James Soccer Team Liverpool: Which is Richer?
Joel Embiid posted 17 points for the Sixers.
ADVERTISEMENT
Article continues below this ad
Do you think the Heat can reach the Conference Finals? Let us know in the comments below.