NBA Twitter Brings Back Hilarious Interaction Between Nets' Kevin Durant and Celtics' Jayson Tatum Ahead of Playoff Matchup
Published 04/12/2022, 10:56 PM EDT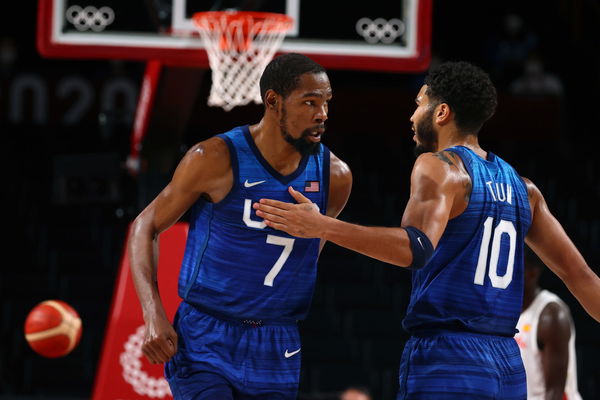 The Brooklyn Nets took care of business as they punched their ticket into the NBA playoffs. They defeated the Cleveland Cavaliers in the play in round to advance as the 7th seed. Now, in a playoff rematch, they will face off against the Boston Celtics. In the midst of the matchup between Jayson Tatum and Kevin Durant coming in, an interaction between Durant and Tatum is going viral all over.
While Tatum and the Slim Reaper are rivals on the court, they shared the court together while playing for Team USA. In an iconic Olympics, the USA did not lose out on their status. In a wild ride, they secured the gold medal, beating France to the glory. However, the Nets were quite active as they signed Patty Mills, who was hot through the tournament. This led to a hilarious exchange between Tatum and KD.
ADVERTISEMENT
Article continues below this ad
Now, with the two facing off in the playoffs, their interaction is going wild amongst the fans.
WATCH THIS STORY: Shaquille O'Neal Has a Four Word Message for Will Smith and Jada Smith After Oscars "Slapgate"
Kevin Durant predicted the future?
After winning the Olympics, the USA players were celebrating and met up with some buddies. For Durant, he took the time to catch up with Patty Mills, his new teammate. While Tatum was around, Durant decided to take a dig at the Celtics. He said the Celtics are going to be in big trouble this season. This got Tatum to say, "F**k outta here."
While the interaction was funny, the matchup between Durant and Tatum never disappoints. Similar to last season, the Nets and Celtics are all set to put on a show in the first round.
ADVERTISEMENT
Article continues below this ad
Last season, Brooklyn were one of the favorites to win the title. With the trio of the Beard, Kyrie ad Durant, the Nets had an unbeatable offense. Likewise, the young Celtics did not have the answer as they lost within 5 games. However, the series was entertaining, as Tatum even dropped 50 points on Durant and the Nets in the Celtics' lone win. But the script may be flipped this season.
ADVERTISEMENT
Article continues below this ad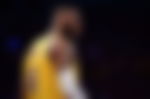 After a poor start to the season, the Celtics ended the season as the top defensive team n the entire league. In addition. Jayson Tatum and Jaylen Brown have been on fire over the last few games. With an equal matchup between offense and defense, the first round of the playoffs is bound to become a spectacle. Who do you think will come out on top in the first-round battle? Let us know in the comments below.