NBA Twitter Destroys Giannis Antetokounmpo After Jayson Tatum Leads Celtics To A Game 6 Win vs Bucks
Published 05/13/2022, 11:20 PM EDT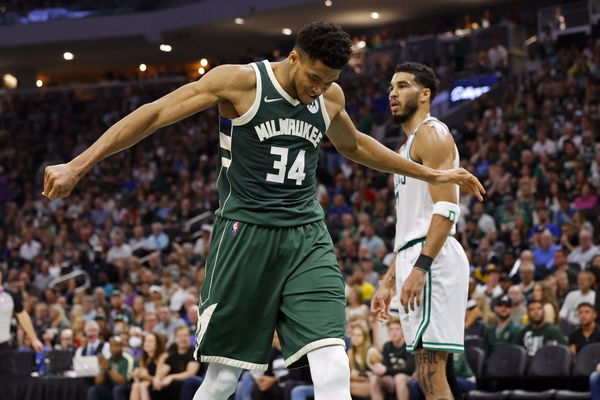 With the playoff thrill running wild in the NBA, the Celtics forced a Game 7 against the Milwaukee Bucks. Going into the defending champions' house, Jayson Tatum led the way for an emphatic Game 6 win. However, Giannis Antetokounmpo put his best foot forward in an attempt to secure a win. But his effort came crashing down as the Celtics pound the Bucks to take a trip back to Boston. While the Greek Freak had a stellar night, fans were very critical of his attacking style of play.
The Celtics and Bucks series has been one of the best in these playoffs so far. Both sides can lift the Larry O'Brien this season and their duel is turning out to be legendary. Moreover, the poster players in Giannis and Tatum are both putting n a show for the fans going head to head in each game. And Game 6 was no different as both exploded for 40-point nights.
ADVERTISEMENT
Article continues below this ad
However, while one received love, Giannis received criticism for committing charges in the game. Notably, popular analyst Skip Bayless called him out on Twitter.
WATCH THIS STORY: How long was Los Angeles Lakers legend Kobe Bryant out due to his Achilles injury? 
Celtics rally despite Giannis' explosion
With the series on the line, the Celtics needed to bring out their best to stay alive in these playoffs, Likewise, the best defensive team in the league put on a show. Jayson Tatum's 46 points led the way for an iconic Game 6 win in the Bucks' house. However, the defending champions did not go down without a fight as Giannis put on a Freak show once again.
However, despite his monster night in Game 6, fans were left with an unpleasant taste after watching the game. They called out the Bucks superstar for getting away with charges all game long. Even Skip Bayless jumped on the train and said, "Giannis charges more than a Tesla".
If you think Giannis is the best basketball player in the world, then seek God.🤡🤡 Dude travels and charges constantly without being called. Of course, he is "unstoppable". And despite refs heavily on his side, the Celtics are still in this series.

— Ahmed 7:3 🇨🇦 (@Nanami_KD) May 14, 2022
Giannis just charges and travels the entire game… and I'm not a Celtics fan by any means

— RJ (@who_u_again) May 14, 2022
I hate watching Giannis play.. and hearing people sice him. Bro be having 40 points with like 30 of them being layups and 6 uncalled charges

— SHESAIDIT👸🏾 (@exquisiteTIA) May 14, 2022
Giannis charges 90% of the time. It's ridiculous.

— Fully (@maddghost) May 14, 2022
@SHAQ don't ever say giannis is as dominant as you. The number of charges he commits are egregious!!! He needs to be on a field with all that. Nowhere near the same dominance pic.twitter.com/isFkZUZ8BG

— Cutty Lamar (@CuttyLamar) May 14, 2022
What is wrong with these refs? They let Giannis commit charges with impunity.

— John Rikala (@JohnRikala) May 14, 2022
Giannis charges more than a Tesla.

— Skip Bayless (@RealSkipBayless) May 14, 2022
ADVERTISEMENT
Article continues below this ad
Since his development into the 'Greek Freak', Giannis has always been an aggressive player. Like Shaq, he is an unstoppable force when he gets to the rim. With so much contact coming in during his rush to the basket, it is hard for the referees to call anything against him. His brute style allowed him to collect accolades after accolades and even earn the respect of fellow NBA players.
ADVERTISEMENT
Article continues below this ad
His 44 points and 20 rebounds performance tonight was a testament to his true capability. With him coming up short tonight, the Bucks will need all they can get from Giannis Antetokounmpo to take them over the line in Game 7. Do you think the Greek Freak has enough left in the tank? Let us know in the comments below.