NBA Twitter Erupts As LaMelo Ball Leaves LeBron James Reminiscing Dwyane Wade With A Showtime Alley Oop for Hornets: "It's Gonna Be A Rough Night for The Lakers"
Published 01/28/2022, 10:04 PM EST

Follow Us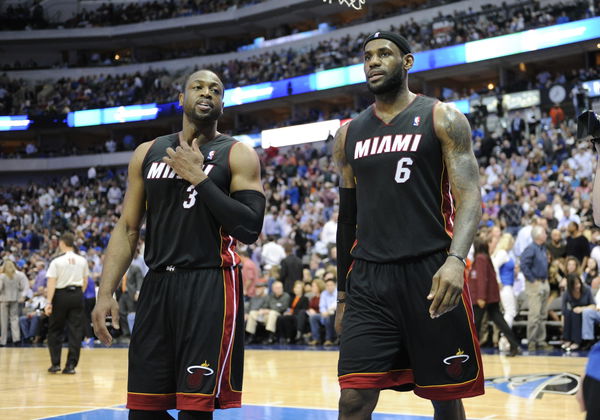 After a loss to the Philadelphia 76ers, the Los Angeles Lakers hit the road once again. They are facing the Charlotte Hornets for the second of their back-to-back road games. LeBron James continues to be out with knee issues, but even Anthony Davis hasn't suited up for the Lake show tonight. Moreover, LaMelo Ball is torching the purple and gold with his Dwyane Wade-like play.
While on a break, LaMelo Ball threw a lob to Miles Bridges which was reminiscent of Dwyane Wade.
ADVERTISEMENT
Article continues below this ad
The Hornets are one of the youngest and most exciting teams in the NBA. Charlotte has had some crucial players come up in big-time moments while some have been making massive improvements. However, the pick of them all is the connection between LaMelo and Bridges. And this duo was in action against the Lakers yet again.
WATCH THIS STORY: Everything you need to know about the Season 4 of Netflixs Drive to Survive
LaMelo Ball brings back LeBron James-Dwyane Wade's connection with lob
Ball has really stepped things up in his sophomore year so far. But what hasn't changed is his insane passing ability. So while facing off against the Lakers, the young star got the ball from Bridges. However, he faked out the defender into the layup and threw a lob right back for Miles. This had Twitter going nuts, as it was reminiscent of the Wade-LeBron connection.
The Hornets are taking things right to the shorthanded Lakers. They are holding a small lead going to the fourth quarter. But momentum could definitely tip the scales.
It's gonna be a rough night for the Lakers

— B.O.T.G (@BOHustle20) January 29, 2022
Top5 passers in the league, based on ability not probability.
Jokic
LaMelo
Lonzo
Luka
5…
Lebron, CP3, Harden, Giddey, Trae

— Joseph (@josufbrosuf) January 29, 2022
This is going to be a massive blowout.. Lakers just have NOTHING tonight with LeBron and AD out with injuries, and Monk also out..

— Gregory Pearsoll (@GPJaysfan) January 29, 2022
this starting lineup is the worst in NBA history

— jordanispushin🅿️ (@J0rDAn_______) January 29, 2022
Lamelo has that JKidd vibes to me, but way better shooting

— Jordan bookert (@bookerjordan87) January 29, 2022
lakers absolutely ass i love this shit 😂

— Braydon 🥋 (@braydoncook3120) January 29, 2022
I'm a Lakers fan and this is so beautiful 👌👌👌👌👌

— Four Hikes in 2022 (@macro_sizzle) January 29, 2022
ADVERTISEMENT
Article continues below this ad
The Lakers are missing three of their best scorers on the night. LeBron James, AD, and Malik Monk all are sitting out for the purple and gold. Russell Westbrook has added 19 points, 3 rebounds, and 5 assists so far. Carmelo Anthony is heating up with 18 points off the bench. Kent Bazemore has scored 13 points in just 10 minutes of action.
For the Hornets, Miles Bridges is leading the way with 23 points and 5 assists. LaMelo Ball has scored 17 points 7 and grabbed rebounds. Terry Rozier has struggled to score with 13 points on 41% shooting so far.
ADVERTISEMENT
Article continues below this ad
With the Lakers leading a good comeback into the game, do you think they can take this game? Let us know in the comments below.