NBA Twitter Left in Disbelief After Joel Embiid Got a Rare Cristiano Ronaldo Card on FIFA 22: "Thousands Are Nothing to Him"
Published 01/28/2022, 6:17 PM EST

Follow Us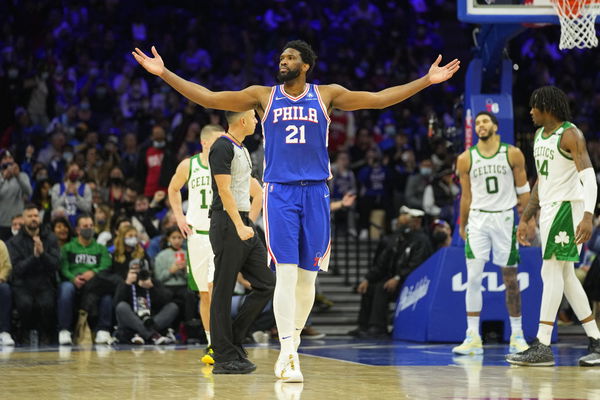 Joel Embiid took to Twitter to convey his appreciation for EA Sports and FIFA after receiving a rare Cristiano Ronaldo in the game. The Cameroonian 27-year-old has previously shown support for the Premier League club Arsenal and even showcased his football skills with NBA players Jimmy Butler and Bam Adebayo at last year's All-Star game.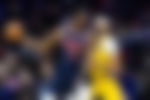 Fan reaction to Embiid's Ronaldo card:
ADVERTISEMENT
Article continues below this ad
The fans did not respond well to this achievement by the Philadelphia forward Joel Embiid. Most of the fans expressed they were aware of the amounts Embiid must spend on games to achieve such a milestone. Particularly, many fans commented with their views on Twitter.
Joel I am convinced you spend THOUSANDS a year on fifa

— philly philly (@jpitt1616) January 28, 2022
Dont worry kid he has a lot of money

— SPOUTNIIKGAMES (@jSpoutniikgames) January 28, 2022
We all know you bought like a million fifa points mate

— Matt (@matt_cornford) January 28, 2022
you have millions of dollars you could just get this in 30 seconds

— Mo ➐ (@bknmo) January 28, 2022
Gonna cry again this playoffs 🤡🤡🤡

— ….nu?-FSGOUT (@LakeToyaLife) January 28, 2022
Remarkably, Embiid is performing well despite the team's recent controversial trouble regarding guard Ben Simmons. Reportedly, the Sixers are not willing to trade Ben Simmons to just anyone despite his absence throughout the season. If rumors are to be believed, the Sixers front office is aiming at acquiring James Harden in the summer as they have worked together in the Rockets. However, Embiid's season is not worth wasting this time.
Joel Embiid and MVP prospects
After yesterday's win over the Lakers, the 76ers are matched with the Nets with 29 wins and 19 losses. The Lakers were without LeBron James, but Anthony Davis and Russell Westbrook were given ample playing time to adjust for the same.  The 76ers made it to the Conference Semi-Finals 3 times in the last 4 years. Even though the Sixers are playing despite Simmons' absence. Still, Joel Embiid has been performing at an exceptional level.
ADVERTISEMENT
Article continues below this ad
Also, in yesterday's game, Embiid scored 26 points, handed out 7 assists, and wiped the glass 9 times. Furthermore, with 7,512 points, he has passed Sixers veteran Moses Malone on their all-time scoring chart. Embiid will also be a part of the starting lineup for the All-Star weekend, which was announced today.
ADVERTISEMENT
Article continues below this ad
His name has recently become more popular in the MVP ladder for the 2021-22 season. Notably, he has now climbed to the second most rung of the ladder in the race. Will the Philadelphia 76ers support Embiid in contention this season? Let us know what you think in the comments.