NBA Twitter Left in Shambles After Michael Jordan Blatantly Disregards Fans
Published 06/23/2022, 11:00 AM EDT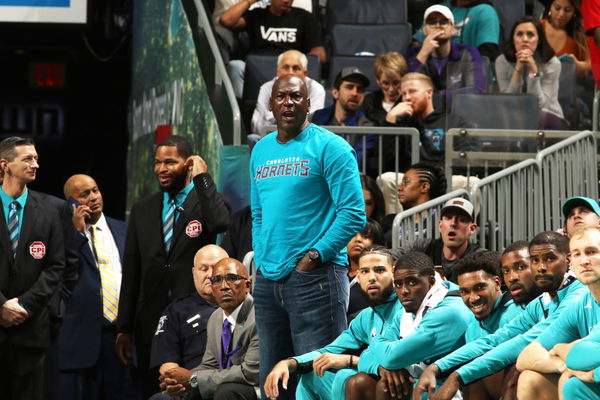 After breaking all barriers as a player, Michael Jordan became a global star. He dominated the NBA and is one of the all-time greats of basketball. Likewise, the Hall of Famer is constantly being chased around with cameras. And a few fans found the Hornets owner in a compound. However, His Airness was not in the mood for being in front of the flashlights. He asked the fan to keep the camera away and NBA Twitter had their say on his reaction.
The Charlotte Hornets are going through a tricky phase at the moment. They have one of the most talented youngsters in the league.
ADVERTISEMENT
Article continues below this ad
However, when it comes to the push for playoffs, they have failed in the last two seasons. Hence, the pressure is high on the front office. In addition, MJ can only go so long without that winning feeling.
WATCH THIS STORY – 5 best Memes on Chris Paul Choking Yet Again in the NBA Playoffs
Also, the Hornets are still without a Head Coach as the 2023 draft nears. So in such a time of pressure and work, MJ was not one to entertain the fans.
Michael Jordan doesn't like these meets
Two ecstatic fans were waiting around in hopes of seeing Hornets' young All-Star LaMelo Ball. But they had no idea what was about to hit them. In a scream of excitement, the fans couldn't believe their eyes. His Airness himself came into the parking lot and they requested him for a picture. But to their unfortunate luck, Jordan did not want to be in front of the camera.
The Bulls legends looked visibly annoyed as he asked the fans to keep the camera away. The six-time champion just wanted to catch a break, but the NBA fanbase wasn't feeling his reaction.
Lebron would never talk to fans like that

— 𝒹𝓊𝓁🌵💫 (@onlybronn) June 22, 2022
Nobody around them, the kid is literally wearing his shoes and dude waved them off telling to put the cameras down. Bron would never 😂 https://t.co/1TO8MzAGz3

— Javion sanders (@__JJsanders) June 22, 2022
ADVERTISEMENT
Article continues below this ad
While the Hornets supporters didn't get the ideal reaction from Jordan, they must have high hopes from the one they wanted to meet. Their 20-year-old point guard, LaMelo has made a huge noise in the league. After winning ROTY, he stepped up his game big time. And Ball remains to be Charlotte's one hope. His flashy passing vision and scoring ability allow him to manipulate the game to his will. With time to further enhance his gifts, Ball is set for a bright future. Putting up 20 points, 6 rebounds, and 7 assists, LaMelo will have to step up big next season if Jordan wants to compete.
ADVERTISEMENT
Article continues below this ad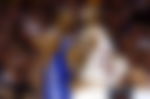 Do you think Michael Jordan will take LaMelo Ball under his wing? Let us know in the comments below.