NBA Twitter Loses Their Minds After Ja Morant Windmill Dunks Over Bradley Beal: "A Career Worth Of Highlights Already Dawg"
Published 01/30/2022, 12:15 AM EST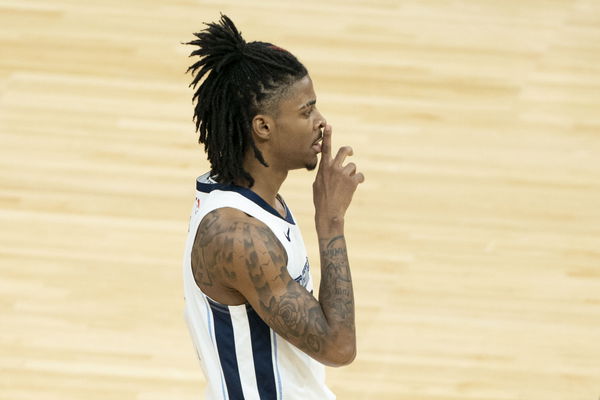 Ja Morant and the Memphis Grizzlies took on the Washington Wizards on Saturday. The Grizzlies have been in great form and are currently third in the west. They are also on a three-game winning streak. Meanwhile, the Wizards have not had a great year, but they are still on the hunt for a play-in spot.
The Wizards came into this game after blowing a 35 point lead against the Clippers. They seemingly had that game in the bag, before the Clippers made a historic comeback. This wouldn't have helped their confidence and they are on a 4 game losing streak. Ja Morant has been spectacular all season long, and he deservedly got his first all-star selection this year.
ADVERTISEMENT
Article continues below this ad
There was a play in the third quarter that got everybody's attention. The Wizards had a fast break opportunity and Spencer Dinwiddie had the ball. He tried to throw it down, but he was met at the rim by Desmond Bane. The Grizzlies got the rebound, and they got the ball up in a hurry. They had 2 on 1 chance with Jaren Jackson Jr and Ja Morant.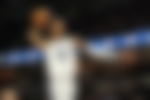 Jackson saw that Beal was trying to take a charge, and he lobbed the ball up to Ja Morant. Ja then took the ball, and he windmilled dunked it by Beal on the ground. However, the play didn't count as Beal was called for a blocking foul and the play happened after the foul was called. Nonetheless, it was a spectacular dunk, and it showcased Ja's insane leaping ability.
NBA Twitter loses their minds after Ja Morant windmill dunks over Bradley Beal
The NBA fans went crazy after seeing this dunk. Even though it didn't count, seeing Ja get up so high so effortlessly made them lose their mind. Here are some of the best reactions.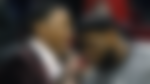 hahahahahahahahahaha holy hell that desmond bane block into a ja morant windmill dunk that might not count but will forever count in my brain because that was INCREDIBLE

— Jessica Benson (@jessbensontv) January 30, 2022
A wire-to-wire win for the Grizzlies.

115-95 over the Washington Wizards. Ja Morant had 34 points, six Grizzlies were in double figures and one hell of a highlight dunk.

They better flex these boys on National TV more or you better get league pass if you can't watch this show

— Damichael Cole (@DamichaelC) January 30, 2022
Taylor Jenkins said he was in awe and had to pause and catch himself after the Desmond Bane block that led to the Ja Morant alley-oop windmill dunk.

— Damichael Cole (@DamichaelC) January 30, 2022
Ja Morant said the windmill dunk wasn't even what he wanted to do. So what did he want to do?

"Between the legs."

— Damichael Cole (@DamichaelC) January 30, 2022
De'Anthony Melton said the team was at a lost for words after the block to alley-Oop sequence. He said he never saw Ja Morant catch an alley-oop windmill dunk in practice.

"It was a lot of screaming, yelling out there."

— Damichael Cole (@DamichaelC) January 30, 2022
Ja Morant really put a *charge* into that dunk!

— Tyler Reidy (@TylerJReidy) January 30, 2022
Ja Morant highlight categories include: dunks that don't count and oh my god if that dunk would have gone in.

— Stu (@Stuicide) January 30, 2022
ADVERTISEMENT
Article continues below this ad
The Grizzlies take down the Wizards for their 3rd straight win
The Grizzlies made short work of the Wizards and they won 115-95. They dominated the Wizards from the start and they didn't let up and had a 27 point lead at one point.
ADVERTISEMENT
Article continues below this ad
For these Wizards, this marked their fifth straight defeat and they will want to correct their slump soon. Ja Morant led all scorers with 34 points as the Grizzlies had 6 players in double digits. Kuzma top-scored for the Wizards with 30 points while Bradley Beal had a terrible outing, ending with only 9 points.
WATCH THIS STORY: Top 5 draft classes in NBA History