NBA Twitter Went Berserk as 'Legendary' Video Shows Dennis Rodman and Carmen Electra Kissing the Larry O'Brien Trophy
Published 10/05/2022, 12:00 PM EDT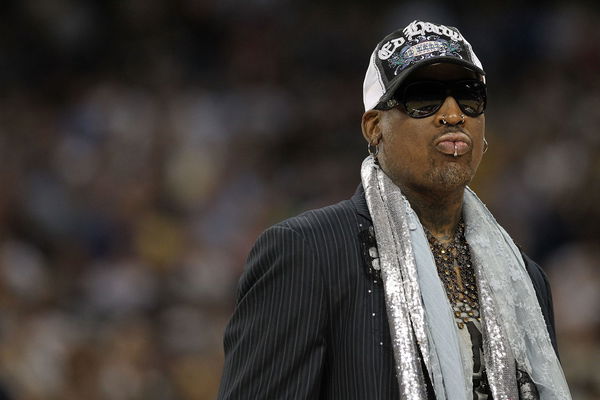 There are many colors in the stories about the relationship between the NBA and Hollywood. But it's hardly fair to talk about colors without mentioning Dennis Rodman. And what about Hollywood? Carmen Electra is yet another colorful character in this conversation. Both the celebrities have their brief yet infamous stories.
ADVERTISEMENT
Article continues below this ad
What happens when two of the most well-known and controversial figures in their respective fields come together? The world will get moments and memories that will be there for a very long time.
ADVERTISEMENT
Article continues below this ad
Rodman had already filed an annulment after 9 days after their wedding. The couple got separated but it was just on paper. They were spotted several times after that.
The couple was together in a relationship from 1998 to 1999. Even after two decades of relationship, the world remembers their relationship. Once Michael Jordan showed up at Rodman and Carmen's hotel room in Las Vegas and crashed their party because Rodman was missing from the training.
Dennis Rodman and Carmen Electra's bizarre relationship tale
Rob Lopez posted a video on Twitter back in 2018. In the video, Rodman was sitting with Carmen while clutching the 98 NBA championship trophy. Then the couple was seen kissing the Larry O'Brien trophy. The tweet gained a lot of traction from the netizens.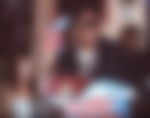 And the four-second video was enough to trigger all the past memories for the fans. The fans went berserk and quote it as 'Legendary.' They expressed their perspectives in the comments section.
Dennis was winning in all aspects of life

— DJ Durel (@DarrelNkomo) May 18, 2020
This is the most 90s tweet

— Wambua 🇰🇪 🇵🇸 (@DJ_Royel) May 18, 2020
Yoooow he said kiss it 😂😂 I think if he was referring to something other then trophy she would have done it .

— Geel Jire (@sharmaakeabdala) May 19, 2020
Odd couple right there.

— TypsyDancer (@TypsyDancer) May 18, 2020
I have a newfound respect for Dennis Rodman & Carmen Electra is a Boss. #LastDance

— Dark Falcon (@DarkFalcon89) May 18, 2020
ADVERTISEMENT
Article continues below this ad
The couple first met in a nightclub. At that time, the celebrity status of Dennis Rodman needed no introduction. The couple quickly got close. Their tale revolved around Las Vegas, alcohol, and massive amounts of sex. Rodman referred to their relationship as crazy. And reveled once they had sex all over the Chicago Bull's training facility.
ADVERTISEMENT
Article continues below this ad
WATCH THIS STORY: White House expresses stern disapproval of Dennis Rodman after he disclosed Brittney Griner's rescue plans from Russia
Their story seems endless. Do tell us your views about their bizarre relationship in the comment section below.