NBA World Stunned as Warriors Fans Make a Goat Wear Stephen Curry's Jersey in Unreal Video
Published 06/21/2022, 7:30 AM EDT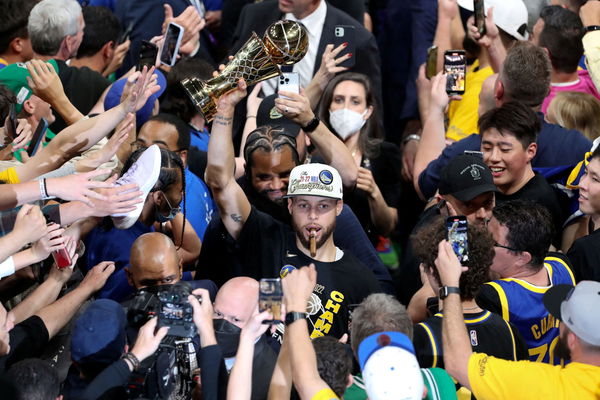 Stephen Curry's legacy has led the Golden State Warriors to glory. The Warriors were not as relevant compared to other superstar NBA teams before 2013. They were popular but were not a global phenomenon. The "Run TMC" and the "We Believe" eras made them cult favorites, but it was Curry being drafted that changed things permanently for the California-based team.
Since then, they haven't looked back. The Warriors are a very popular team. They have fans everywhere on the globe. This has all happened due to Curry being one of the best players in this era.
ADVERTISEMENT
Article continues below this ad
Hence, to honor his contributions to Golden State winning another NBA title, fans adorned a goat with Stephen Curry's jersey during the championship parade. Curry, who won his first Finals MVP this season, is considered among the greatest point guards of all time and fans have already declared him to be the greatest of all time.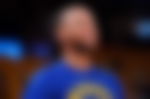 These fans have stunned online fans and critics. Some have reacted to this in various ways. Some have nodded in agreement, some have "respectfully" disagreed with this statement.
But he's still number 2 g.o.a.t. I'm number 1 G.O.A.T. in high school with 10 MVP/VIP awards in 3 years. It will take Curry a very long time to do! Congrats

— MARCUS MAYLE (@MarcusMayle3) June 21, 2022
Stephen Curry's Warriors win their 4th ring in 8 seasons
Stephen Curry was at his imperious best during the Finals. He scored 31.2 points per game at 48/44/85 shooting. Curry also had 6 rebounds and 5 assists. He dominated the game with his three-point shooting and had more than 50% shooting accuracy in 4/6 games.
ADVERTISEMENT
Article continues below this ad
On the back of this performance, experts have already re-framed him as a top 10 player. Therefore, a Finals MVP award doesn't hurt one bit to further that conversation. He has already equaled LeBron James, in terms of the NBA titles they have won in their career.
Curry celebrated with his teammates during the championship parade. He was opening bottles of champagne and had a fun time. This was the Warriors' first title since moving to San Francisco from Oakland.
ADVERTISEMENT
Article continues below this ad
WATCH THIS STORY: Stephen Curry's Parents Dell and Sonya: Has the Couple Interchanged Partners With a Married Couple?
They beat the Boston Celtics in a definitive fashion. It was the Warriors in six, indeed. Will the Golden State Warriors continue their dynasty with Stephen Curry? Do you think they can go back to back next season? Let us know in the comments below!