"Need to Just Date, Been Crushing on Each Other for a Long Time": Patrick Beverley Agrees While NBA Analyst Gets Called "Rizz God" for Shooting His Shot
Published 02/03/2023, 1:19 PM EST

Follow Us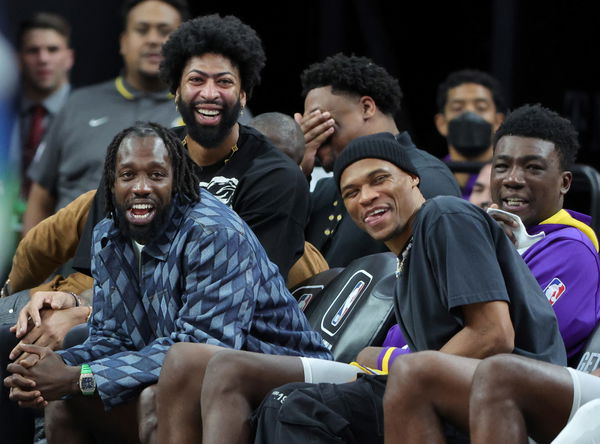 The NBA fandom has seen a lot of duos over the years. Some duos have been so iconic that they've held a soft spot in the hearts of the fans. Crews like Inside the NBA among others have been captivating NBA hearts for many years now. Similarly, when a specific duo from the world of the NBA met recently, the basketball Twitterverse went crazy. So much so that even the Los Angeles Lakers star Patrick Beverley couldn't hold back but retweet the same feelings that fans had.
Shams Charania recently reunited with Kay Adams on a recent podcast and fans couldn't help but point out Charania's 'rizz' evident in a clip now viral on Twitter. The Athletic reporter was caught appreciating Kay Adams and viewers couldn't help but notice Adams blushing with each compliment.
Shams Charania flirting with Kay Adams sends Twitter into a frenzy
ADVERTISEMENT
Article continues below this ad
In a recent episode of the Up & Adams show, Kay Adams invited Shams Charania for an interview. During the show, Charania decided to shower Adams with compliments and praises as her face soon turned red blushing.
"We're both from Chicago. We're both Aries. You're a Missouri grad. That was in my top three. I just didn't go to Missouri," said Charania. He further added, "Your parents were immigrants. My parents were immigrants. I just wanted to say you get your flowers—just everything you've built. I have a lot of respect."
The fans went crazy as it was pretty evident that there was good chemistry between the two. Meabwhile, NBA fans chimed in with jokes and hot takes as they flooded Twitter with their reactions
Here are some of the reactions.
They need to just date already. Obviously been crushing on each other for a long time

— Small State Big Takes Podcast (@SmallStateTakes) February 2, 2023
really, that's all he had to say? He could have said the sky was blue and she would have melted.

— Brinks Marion (@PrinceSimba87) February 2, 2023
this man isn't just planting a tree… he is engraining a seed in the soil and letting it attach those roots deep in the earth. methodical man 🧠

— scott (@scottyj717) February 2, 2023
Heard shams is teaching a new subject in weeknights. "The Art of Rizz"

— Steve Femia (@NFLDraftGuru315) February 3, 2023
Shams did what every guy dreams of. Leaving Kay Adams speechless. W Rizz.

— Ryan Cretacci (@rmc_1492) February 2, 2023
Meanwhile, Patrick Beverley also loved the clip and retweeted it as everyone melted over the sweet and endearing conversation. Adams was pretty speechless after listening to all of that as she couldn't believe her ears. She tried to enquire if it was a "prank". When Charania assured her that it was from the bottom of his heart Adams' reaction was one to see.
However, this isn't the first time that their signs of chemistry have been out in the open, as an earlier interview had similar reactions from the fans
ADVERTISEMENT
Article continues below this ad
Charania and Adams' chemistry is evident since 2022
Back in November of last year, Adams and Charania sat down for an interview where the conversations slipped, literally. While talking about Charania's life, Adams said "When we have kids" followed up with "I'm kidding, just kidding". It was a joke indeed, but was it?
Watch This Story: Trae Young, Bradley Beal, Buddy Hield – All NBA Stars Linked To The Lakers
ADVERTISEMENT
Article continues below this ad
The joke continued as both later mentioned in the interview that they were "obsessed" with each other. Only time will tell if these two were harmlessly flirting or if these are subtle hints at a different future.
Edited By: Satagni Sikder