Nets' Kevin Durant Creates Playoff History With Monstrous Performance Against Bucks in Game 5
Published 06/15/2021, 11:48 PM EDT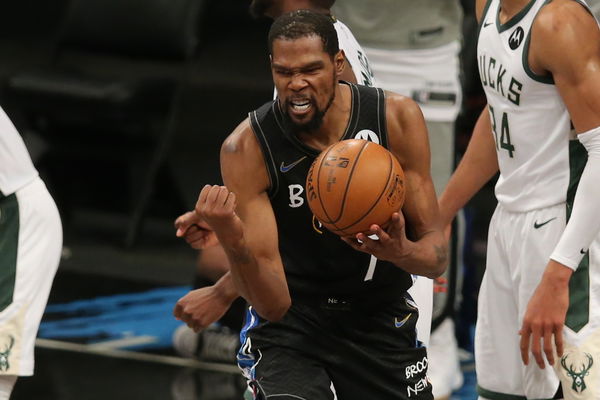 ---
---
The Milwaukee Bucks and Brooklyn Nets series gets more interesting with every game. While the Nets allowed the Bucks to get a hold of them and tie the series in Game 4, in Game 5 they came with the attitude of enough is enough; at least Kevin Durant did. And everyone knows that when Durant enters the court with that mentality, that means he goes all guns blazing and that's exactly what happened.
ADVERTISEMENT
Article continues below this ad
Kevin Durant comes to the Nets' rescue
Before Game 5 began, the Brooklyn Nets had a lot of pressure to gain back control of the series. In fact, the pressure only rose when they were down by as much as 17 points at one point and the Bucks seemed like the clear winners until the third quarter hit.
ADVERTISEMENT
Article continues below this ad
KD's performance was truly heroic even though Kyrie Irving was out. Even though James Harden did return to the court, he was not up to his usual form. It is safe to say that it was one of the best playoff performances seen as KD dropped a monstrous 49 points, 17 rebounds, and 10 assists, along with 2 blocks and 3 steals.
His clutch free throws and shot from the arc as the end of the fourth quarter neared helped seal the win. It was game over at 114-108 and with that, he became the only player in the history of the playoffs to record these stats. He is also the only player from the Nets to score this high. What brilliant timing, isn't it?
WATCH THIS STORY: James Harden's Whopping Car Collection and His Go-To Outfits
The Milwaukee Bucks have only themselves to blame
Despite Giannis Antetokounmpo finishing the night with 34 points, 12 rebounds, and 4 assists, the Bucks let the fourth quarter slip right out of their hands. One could see their offense crumbling down the stretch in the final minutes of the game.
ADVERTISEMENT
Article continues below this ad
The beast that KD is, the Nets are likely to finish this off in Game 6 unless the Bucks pull off another one of their magical upsets. Harden was definitely struggling to function with his injury and a lack of help on his end could be a problem for the Nets in the upcoming vital game.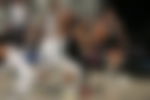 Will it take another miraculous Kevin Durant performance to get them a ticket to the Conference Finals? Or will the Milwaukee Bucks give them a run for their money and take them to Game 7?
ADVERTISEMENT
Article continues below this ad