Nets News: Kevin Durant Compares Favorite Drake Song With His Game
Published 09/28/2021, 4:00 PM EDT

Follow Us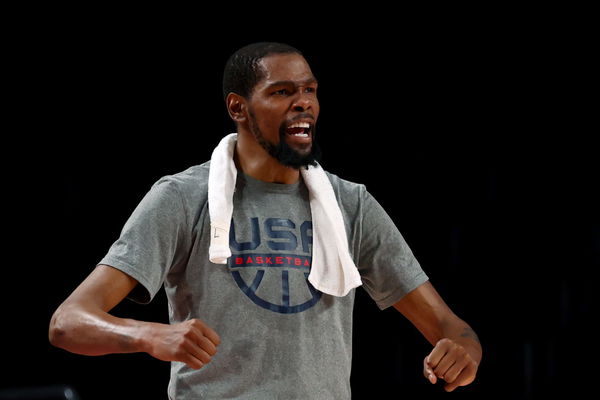 As long as the Brooklyn Nets have Kevin Durant making shots from the three-point line, they will continue to be considered as title contenders. And when this deadly weapon comes with some extra ammunition in the form of James Harden and Kyrie Irving, nothing more needs to be said.
While KD is considered to be a very intense player, there is a side to him that not many knows. He is a big fan of Drake and never fails to mention him when he is spoken to about music. When asked about which one is his favorite song, at first, Durant had a hard time choosing. He knew that it would be one of Drake's only. But after careful consideration, he picked 'Crew Love' by Drake.
He even justified why he picked this song and said, "Crew Love by Drake because obviously, you're going to have a crew out there while you're hooping. It's a slower tempo song, and that's the kind of and that's the kind of pace I like to play it. So, it matches with, you know, my approach to the game."
ADVERTISEMENT
Article continues below this ad
WATCH THIS STORY: Butting Heads with LeBron James & All the Other Times Kevin Durant Showed His Anger
The love between Kevin Durant and Drake is mutual
Drake is a big fan of basketball, and the Toronto rapper, of course, supports the Toronto Raptors. However, that does not mean he doesn't gel up with players on the other teams. He has been seen hanging out with LeBron James, even Stephen Curry, and Ayesha Curry. Apart from being present at several All-Star games, he was also named the global ambassador for the Raptors.
Talking about his connection with KD, their bond began when he mentioned the Brooklyn Nets superstar in a song of his. This song named 'Weston Road Flows' had Durant feeling blessed that his favorite artist used his name. He sat down with Genius to talk about the impact he has had on the music industry with so many rappers using his name, including Drake.
ADVERTISEMENT
Article continues below this ad
The lyrics went like, "A lot of people just hit me up when my name is mentioned / Shout-out to KD, we relate, we get the same attention / It's rainin' money, Oklahoma City Thunder / The most successful rapper 35 and under."
Looks like if Durant isn't a big entity just in the basketball realm but in the music one too. While it's good to know some stuff about his personal taste, fans will be more focused on whether he and his "Crew" can finally bring an NBA championship home.
ADVERTISEMENT
Article continues below this ad