'New Era in Brooklyn': Twitter Goes Berserk as James Harden Dominates in His First Game For Nets
Published 01/16/2021, 8:51 PM EST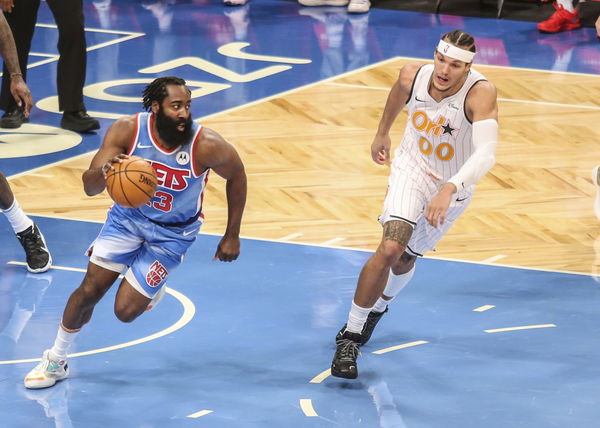 ---
---
James Harden made his much awaited debut for the Brooklyn Nets, who registered a comfortable victory over the Magic on the back of dominant performances by the 'Beard' and Kevin Durant. But is this team good enough to win it all? At first look, the Nets look infallible.
ADVERTISEMENT
Article continues below this ad
They already have two of the best players in the league and with Harden added to the mix, the sky is the limit. Speaking of Harden, he made a phenomenal debut for Brooklyn. The 'Beard' played for 40 minutes tonight and registered his first ever triple-double for the Nets.
ADVERTISEMENT
Article continues below this ad
In his sensational performance, Harden scored 32 points, grabbed 12 boards, and dished out the ball 14 times! Which, by the way, is a franchise record for any Nets player on their debut.
Although Harden also had 9 turnovers, he is still getting acquainted with his teammates. In fact, Harden didn't even get a chance to attend a proper practise session with his new team.
NBA fans react on Twitter to James Harden's Nets debut
Prior to joining Brooklyn, Harden's reputation was severely tainted by his actions in the last few weeks. He never looked same with his teammates and was clearly not giving his 100% for Houston. Well, his stint with the Rockets is in the past and this is how NBA fans reacted to his first game for the Nets.
We joke about James Harden giving you a 30 point triple-double off the street but he literally just did that

— Duncan Smith (@DuncanSmithNBA) January 17, 2021
Everyone: "Wow these Harden passes are incredible!!!"

No guys, we just made all of that up for nine years

— Matthew Cardenas (@Matt__Card) January 16, 2021
Last thing I'll say about Harden today but bookmark this tweet:

When the Nets make the Finals — and DEFINITELY if the Nets win it all — please never ever say "Harden's style doesn't work in the playoffs"

It's about who else is on your team. Always has been. Period.

— Roosh (@RooshWilliams) January 17, 2021
After what Harden just did (32p, 14a, 12r) for the Nets, ain't nobody thinking about how he left Houston

— Chris Broussard (@Chris_Broussard) January 17, 2021
James Harden and Kevin Durant displayed sheer dominance tonight and gave an indication of the things to come. But the Nets are not at their 100% even with KD and Harden; Kyrie Irving will most likely be back for Brooklyn in the next game. While Harden and KD look phenomenal, will they get even better with Irving?
How will Kyrie Irving fit alongside James Harden and Kevin Durant?
ADVERTISEMENT
Article continues below this ad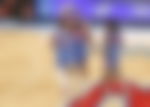 The 'Beard' proved that he can adjust his game as per the requirement. Also, we have witnessed how good KD is alongside other superstars. The only player that could hamper their chemistry is Kyrie.
No offense to Irving, but the way KD and Harden played tonight, it's hard to see the 3 of them mesh that well. However, there is a way that might aid in all three superstars. The Nets could let Harden be the facilitator and shift Irving to the shooting guard position.
ADVERTISEMENT
Article continues below this ad
By doing so, all 3 of them will be allowed to play a more natural game. But that's all for the future. For now, what are your thoughts on James Harden's debut? Share your thoughts in the comments section below.