Pelicans' Zion Williamson Compares Very Close to Shaquille O'Neal's Unique Rookie Year Achievement
Published 02/14/2021, 11:22 PM EST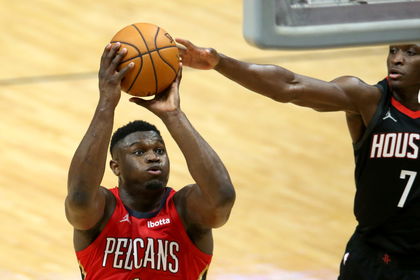 ---
---
The New Orleans Pelicans have wasted all the advantage they had earned after a 4-1 record in February 2021. They've lost three games in a row, the latest being the loss against the underdogs Detroit Pistons. Zion Williamson is putting on a great show almost every night but is still unable to pull them through.
ADVERTISEMENT
Article continues below this ad
The Pistons, on the other hand, saw a tremendous contribution coming from their bench. They had guard Josh Jackson and forward Sviatoslav Mykhailiuk combining 39 points off the rotation. This put a dent in the expanding achievements of Zion.
Zion Williamson pulling a Shaquille O'Neal every single time
ADVERTISEMENT
Article continues below this ad
It seems as if Zanos is following everything that Shaquille O'Neal achieved in his rookie year with the Orlando Magic. He played 24 games last year and the same number of games this year until now.
In these 48 games, he is averaging 23.4 points. Interestingly, The Big Shamrock had averaged the exact 23.4 points in his first 81 games in the rookie season, 1992-1993. 
So, Zion Williamson is averaging less than a point behind Shaq in the first 48 games. Chances are high that the former will average 24+ points till the time this season closes.
That will be a great achievement since he'll be able to go past a man who had earlier set the standards for rookie year numbers. 
What are the Pelicans' pain points?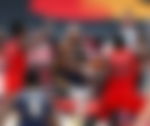 Remember that game against the Utah Jazz when the Pelicans were on a 16-point lead which they blew away? That has been their story lately.
ADVERTISEMENT
Article continues below this ad
They begin with dominance and then let the offense take the back seat. Be it Brandon Ingram's poor shot choices, Lonzo Ball's hesitation to keep the possession and convert a shot, or Eric Bledsoe's lack of confidence from the deep range, everything is hurting. Although these names are adding numbers, they're doing far from their potential.
On the other hand, Zanos is yet to become better at his defense. Plus, he desperately needs better role players around him, and coach Stan Van Gundy must try more equations to help him out. 
Do you think the Pelicans can qualify for the playoffs this season? Help us know in the comments.
ADVERTISEMENT
Article continues below this ad