Zion Williamson Takes JJ Redick By Absolute Surprise with His Emotional Poetry to Define Dichotomy of Fame
Published 03/05/2021, 9:37 PM EST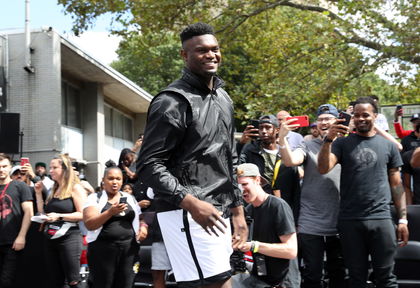 ---
---
Zion Williamson has become the cornerstone for the Pelicans only in the second season of his career. The Pelicans struggle on the floor if he misses a game and flourish whenever he is in his rhythm, and that happens quite often now. 
ADVERTISEMENT
Article continues below this ad
It is not surprising to see Zion going big early in his career because just like LeBron James, he also carried that image of a star right from his high school days. However, with power comes responsibility, and with fame follows a dichotomy. 
When Zion Williamson was forced to try poetry
ADVERTISEMENT
Article continues below this ad
As tough as it is to believe, this man who likes to crush his opponents has a poetic side to him. In a recent interview with fellow teammate JJ Redick, Zion revealed how he picked up poetry and who inspired him. 
The 20-YO narrated with utmost pride in his body language, "It started in high school, it was a creative writing class… I was going through the college process to figure out where I want to go. I remember going to this class, I'd kind of write just to get the passing grade. This teacher was such a great guy, really knew his stuff about sports. One day he came in like, 'Z, I want you to really try, I want you to talk something real about you'. At first, I couldn't come up with anything… I go home and just got off the phone with a college coach. I was like man, this is stressful, I don't know where I wanna go and then I said I can write about that."
Notably, Zanos hit popularity when Canadian rapper Drake sported Zion Williamson's high school jersey #12 and posted on Instagram. A 'nobody' became somebody almost overnight, and his entire school knew who he was. That brought a sudden paradigm shift in his lifestyle as a high schooler, and things changed forever.
The Pelicans star wrote a poem to explain his plight
The 2021 NBA All-star finally wrote a poem and remembers exactly what it was about. He unveiled, "I wrote about two people. One, you gotta guide, he flies, he can't do anything wrong, wherever he goes people love him, get pictures, people just wanna be around him, wouldn't you want to be that guy? Now let's talk about guy #2. He can't say NO to a picture because he says NO, that person is going to make him feel bad. Because they're never gonna be in that situation, or if I tell one person, yeah, you have to tell the other person, yeah, because you feel like you're picking favorites. You got to pick a school, letting other coaches know that you don't wanna go there." 
ADVERTISEMENT
Article continues below this ad
This was his own story, about how he dealt with satisfying everyone as a famed prodigy. He was 6'6'' by his second year in high school. Plus, he was already averaging a double-double as a force inside the paint.
Zanos later added, "I talked about being in the limelight at such a young age, and then what if I told you I was the same guy? I remember I turned that in and he was like 'that's a real poem'. So then I'll be in my room and I just type up on the phone coz he made me feel like that a way I could express myself without being out in public."
That was deep and really made sense. Do you think Zion must release his poem on Instagram? 
ADVERTISEMENT
Article continues below this ad
Read Also – Stats Proving That Zion Williamson Is Better For New Orleans Pelicans Than Anthony Davis