New York Knicks 2021-22: How Does the Starting 5 Look Like With Julius Randle and Kemba Walker on Board
Published 08/09/2021, 7:00 AM EDT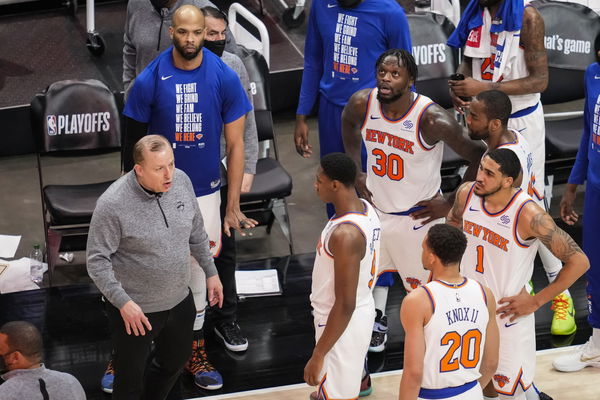 ---
---
The New York Knicks were one of those underdogs that nobody expected in the playoffs, let alone give the Atlanta Hawks a fight to stay put. Knicks fans had a gala time cheering from the stands, a sight that none of us had witnessed before. In fact, they were hell bent on wanting the Knicks to go deeper into the playoffs. Unfortunately, that was as far as they went.
ADVERTISEMENT
Article continues below this ad
So, everyone expected their offseason to be busy, to overturn what went down. However, it was very underwhelming. Let's take a look!
Incoming players
ADVERTISEMENT
Article continues below this ad
Kemba Walker is finalizing a contract buyout with the Thunder and the New York Knicks will sign the four-time NBA All-Star as a free agent, sources tell @TheAthletic @Stadium.

— Shams Charania (@ShamsCharania) August 4, 2021
More than the fact that Walker is a brilliant addition to their roster, the celebrations in New York had more to do with him coming back to his home to play. Their best high school star is coming back and will help solve their point guard problem. Now, the rest of the roster will work around the 31-year-old. But only time will tell whether it pans out the way they want it to.
With their 25th pick in the 2021 NBA Draft, the Knicks chose Quentin Grimes, a product of the University of Houston. Although he wasn't the ideal choice, he can make a decent impact on the organization. Along with his size, his shooting skills and defense will put him up for success in the NBA. Although the Knicks could have gone elsewhere, which had some fans disappointed, Grimes might be exactly what they need.
From West Virginia University, the Knicks drafted Miles McBride with their 36th overall pick in the 2021 NBA Draft. McBride was an excellent choice, as he is a perfect fit and his style matches the Knicks'. The excellent shooter does not let go of catch-and-shoot opportunities. And because his FT% is decent, indicates that he could transition into a great shooter from the arc as well.
WATCH THIS STORY: From Rags to Riches: Kevin Durant, Allen Iverson & Other NBA Stars Who Turned Their Lives Around
Outgoing players
After spending two seasons with the Knicks, Reggie Bullock has now signed with the Dallas Mavericks. After injury issues in the first season, Bullock showed he could excel with the Knicks. However, clearly, the Mavericks made an offer that he just couldn't refuse. Bullock is that efficient starter who's a stellar shooter. Dallas did a good job ensuring Luka Doncic gets more support next season by pulling this off.
ADVERTISEMENT
Article continues below this ad
Taj Gibson
Jared Harper
Frank Ntilikina
Elfrid Payton
Norvel Pelle
Theo Pinson
New York Knicks starting five
Even Fournier
Kemba Walker
R.J. Barrett
Julius Randle
Mitchell Robinson
ADVERTISEMENT
Article continues below this ad
Just because they didn't make any flashy moves, doesn't mean the Knicks were up to no good. They had to focus on updating the roster for the upcoming season without tampering with their future. That's what they did. Will they be able to live up to the standard they set next season with these changes?