Knicks Star Gives an Honest Take On "Villain" Trae Young Being Treated Harshly That Might Make New York Fans Unhappy
Published 04/22/2022, 12:22 PM EDT
It's safe to say Atlanta Hawks superstar Trae Young is not well-liked in New York. Last season's playoff victory against the New York Knicks made him a villain for Knicks fans. And he is still booed to this day. But one Knicks star says he gained the respect of the team and this may not go down well with Knicks fans.
R J Barret was the third pick in the 2019 NBA draft and he has quickly become a fan favorite. He is a key player for the Knicks and has shown the potential for greatness. Additionally, he was part of the team last year that made the playoffs after a long time. But they lost to Young and the Hawks in 5 games in the first round. Interestingly, the way the Knicks lost was quite spectacular. Young torched the Knicks and, even though he was booed and heckled in New York, he destroyed the team on their home court. His infamous bow after hitting the 3, which sealed the series, went viral. Even this season, Young went to New York and absolutely torched the Knicks.
ADVERTISEMENT
Article continues below this ad
R J Barret says Trae Young is special
Barret was The Old Man & The Three podcast. He talked about last year's playoff success, this year's struggles, and his journey in the NBA. He was asked what he thought about Young's saga with the Knicks fans. Barret says, " The fans in the garden were brutal towards him. My respect level for him grew after how well he played. As a player, he is special. The fans are brutal"
ADVERTISEMENT
Article continues below this ad
In game 1 of the series, Young hit the game-winner with less than a second remaining. After the game, he shushed the fans and asked to be quiet. In game 2, he was greeted with "F–k Trae Young" chants and he just smiled at them. After taking care of business at home, Young had a huge game to seal the series. And he bowed to the fans and said goodbye to them as the series ended.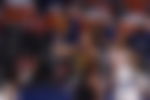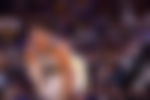 ADVERTISEMENT
Article continues below this ad
Some players are just hated in arenas. Let it be LeBron James at Boston or Kevin Durant at Oklahoma or Young at New York. The fans will not stop harassing them or heckling them, but these players step their game up every time the fans disrespect them. And as of now, Young has the number of Knicks and their fans.
WATCH THIS STORY: Who is Magic Johnson's wife?