Nikola Jokic's "Wholesome" Ritual in the Presence of His Family vs Celtics Makes NBA Fans Suggest He's "Winning Life"
Published 01/02/2023, 6:10 AM EST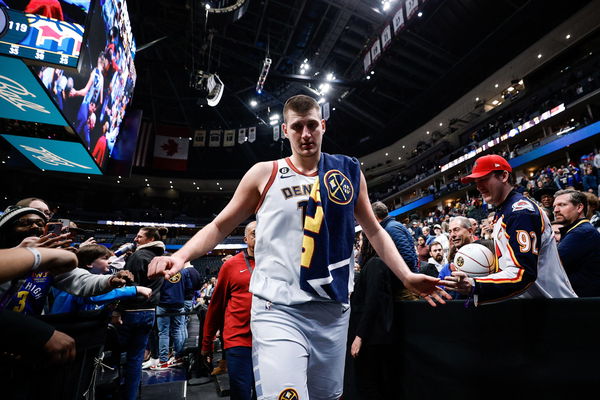 It has been a blast watching Nikola Jokic play this season, especially in the last game against the Boston Celtics. As the Sunday Night game ended with a final score of 123-111, Jokic had 30 points, 12 rebounds, and 12 assists. However, he was not the only one to contribute to the team, as Bruce Brown also contributed 21 points. As a result, he shot 57% from the field and made 17 of 30 three-pointers, which certainly caught everyone's attention.
Based on the stats report, this was Nuggets' 10th consecutive win out of 12. In the current league, they are providing tough competition. Meanwhile, the Celtics gave a fair shot as well, with Jaylen Brown contributing 30 points.
ADVERTISEMENT
Article continues below this ad
While Jayson Tatum added 25 points to make the difference, it looks like they will need to push beyond their limits in future games against the Nuggets. Having won four straight games, the Celtics ended their winning streak after this game.
Aside from all these game commotions, fans noticed and made a buzz on the internet when Jokic wore his wedding ring in his shoelaces. The "wholesome" ritual Jokic performed against the Celtics made NBA fans believe he is "winning life".
Fans react to Nikola Jokic wearing his wedding ring to games
In addition to his stellar performance this season, he has started wearing his wedding band on his sneakers, which has made headlines on social media. As this is a great gesture he is doing for his wife, fans are fully supportive and they are showing their love on social media.
Several people have even expressed their love for this, saying: "I simply love everything about this. Warms the heart!". In contrast, others seemed confused about his marital status. The following are some of the top tweets from fans causing the internet to crash.
ADVERTISEMENT
Article continues below this ad
This happened back in October 2020, when he married his longtime girlfriend, Natalija Mačešić. They have been together since 2013; they decided to take their relationship to the next level by tying the knot at the end of 2020.
ADVERTISEMENT
Article continues below this ad
Watch This Story – Luka Doncic Surpasses Lakers Legend Magic Johnson; Second Only to Oscar Robertson in Iconic NBA Record
In 2021, they welcomed their daughter named Ognjena into the world. As for his stellar performance and his game ritual, what are your thoughts? We would love to hear from you in the comments section below.