'No. 2 Power Forward': Former NBA Champion Heaps Praises over Giannis Antetokounmpo and Predicts His Future
Published 07/21/2021, 10:47 PM EDT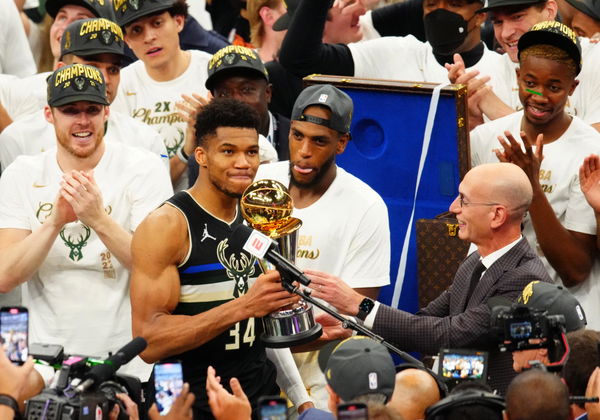 ---
---
When the Bucks' head coach Mike Budenholzer called Giannis Antetokounmpo an "NBA Prodigy", he was hitting the bullseye. The leader of this small market team made it big when he brought the NBA title back to the city of Milwaukee. 
ADVERTISEMENT
Article continues below this ad
In all the previous years in Giannis' playing career, the star has faced enough criticism. Last year, after the Bucks lost 1-4 to the Heat in the conference semifinals, many critics tagged him a playoff choker. But just nine months down the line, analysts are now placing him as one of the greatest.
ADVERTISEMENT
Article continues below this ad
Kendrick Perkins with a big endorsement of the Bucks' Greek Freak
In a recent interview, former NBA Champion Kendrick Perkins discussed the future capabilities of Giannis Antetokounmpo. He confidently expressed, "He cemented himself in the Hall of Fame… He's one of the top greatest power forwards that ever played. We're talking about the guy who's 26-YO, scratching the surface of his prime and he is only gonna continue to get better. When it's all said and done, at the rate Giannis is going, he's gonna finish #2 power forwards of all time behind Tim Duncan."
Ironically, these words are coming from the same analyst who earlier called the Bucks "the dumbest team in Finals history". Turns out the highly critical analyst changed his boat when he saw Giannis shifting gears and tearing apart the Suns one game at a time.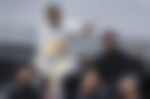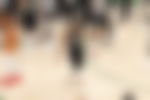 Giannis Antetokounmpo vs Tim Duncan
Just like Giannis Antetokounmpo, Tim Duncan was not a dependable three-point shooter. In fact, Tim's career average of 17.9% from behind the arc is close to Giannis' 18.6% in the playoffs 2021. 
However, both Tim Duncan (Spurs) and Giannis (Bucks), apart from staying loyal to one team, share many strengths too. Both the stars are great at handling double/triple teams and have that court vision to make accurate passes. Moreover, their shot blocking, rim protection, defensive rebounding, and one-on-one play is extraordinary. 
While Tim averaged a 19-point double-double in his playing career where he won five rings, Giannis has the potential to close the gap.
When it's all said and done when Giannis career is over I strongly believe he will be the No.2 power forward of all time, behind Tim Duncan! Carry the hell on… https://t.co/Drf85crzn6

— Kendrick Perkins (@KendrickPerkins) July 21, 2021
ADVERTISEMENT
Article continues below this ad
As KP further added, "Talk about character, humility rising to the moment, embracing the moment, shutting the haters as they'll say, and quieting all the critics. This was the greatest performance in a closeout in NBA Finals history…"
Certainly, Giannis is a two-way freak with very few flaws left in his game. So what do you think, can the Freak achieve as many accolades as The Stone Buddha did? Help us know in the comments.
ADVERTISEMENT
Article continues below this ad
Watch this story – Rarely Known Facts about Milwaukee Bucks' Giannis Antetokounmpo
Trending Stories