'No Consensus': Senior NBA Author Details If Michael Jordan's 95-96 Bulls Are the GOAT
Published 06/15/2021, 1:15 PM EDT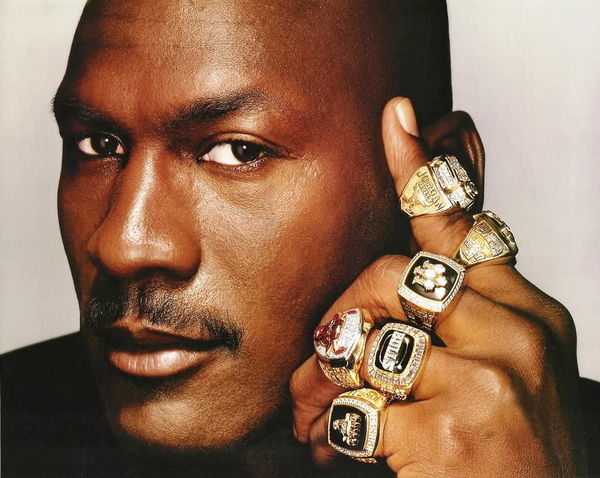 ---
---
The NBA has seen the rise and fall of many a dynasty in its 75-year existence. When debating over the dominance of a single franchise in an era, teams like Showtime or the Shaq and Kobe Lakers, Jordan's Bulls, or The Golden State Warriors are usually the focus of the conversation. Therefore, deliberating over which team is the GOAT, while recognizing the magnitude of their impact is no simple task!
ADVERTISEMENT
Article continues below this ad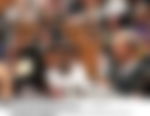 Building a championship team, and further committing to the cause has never been easy. Teams with ample talent and skill have also failed to make it to the promised land, with the 04′ Lakers with Karl Malone and Gary Payton being a prime example. Winning titles, and by extension, building dynasties requires chemistry. And even though Michael Jordan was not the easiest to build chemistry with, his drive for winning championships was a significant factor in the Bulls' success story.
ADVERTISEMENT
Article continues below this ad
Comparing Dynasties – Michael Jordan's Bulls v/s Steph Curry's Warriors
In a recent interview with 'Off the Ball' host Joe Molloy, author Roland Lazenby, known for his book about his Airness, opened up about MJ and the Bulls rule in that era. When asked about which team would come out on top in a game between the 1996 72-10 Bulls and Curry's 2016 (73-9) Warriors, Lazenby commented saying "Always Divided. If we ever get a time machine, and we can go back and let em play it out, with the player in their primes."  
Considering matchups, MJ's playoff numbers and Steph's 3pt.% look absolutely ridiculous. While Michael averaged 33.5pts/6.4reb/5.7ast for his career, Steph has been shooting the 3-ball at over 40%, directing the conversation toward further excitement.
He further recognized Steve Kerr's role in both dynasties, saying – "Steve Kerr, of course, would be a reserve on that team, and have to coach Golden State, he'd be a busy man in that time machine."
The renowned author also recognized the overall Bulls team in those championship runs, since keeping up with MJ's drive and commitment to win titles may have been overwhelming for the weak-hearted. He further mentioned multiple dominant franchises that could have seen eye to eye with the Bulls back in their prime. He added "The teams are great, you know there's a cluster of them. I have just finished writing about the Showtime Lakers, with the great Kareem Abdul Jabbar and all those fine players."
The Winning Formula – Jordan and the Triangle
Lazenby also laid out the importance of the Triangle offense orchestrated by Tex Winter and Phil Jackson, while acknowledging MJ's role in its execution. "That bulls team, I was a dear friend of Tex Winter. I got to run the triangle. I started coaching a little bit to learn it better to write about it. And the triangle mixed with Jordan was a brilliant era."
While the Warriors broke the Bulls' longstanding record of most wins in a season in 2016, their inability to win the championship still positions them below the 96 Bulls as the greatest team of all time. Repeating or winning consecutive NBA titles is a gargantuan feat. There are multiple variables that need to work in one's favor leading up to repeating in the NBA.
ADVERTISEMENT
Article continues below this ad
While teams have been able to discover a formula for a title defense, the only 2 teams to 3-peat in the modern era have been the Chicago Bulls and the Shaq and Kobe Lakers. The Bulls dominated the 90s with 2 3-peats in the 1991-1993 & 1996-1998 seasons.
Watch This Story – How has LeBron James Tried to Emulate Michael Jordan in Different Ways?
Considering that the Golden State Warriors won titles in 2015, '17, and '18, they were a super-team. The Warriors also missed out on a 3-peat by a slim margin on multiple occasions, owing to a 3-1 Cavs comeback in 2016, and injuries to Durant and Thompson in 2019. However, they did put the league on notice with a new brand of perimeter play, unlike ever seen before.
ADVERTISEMENT
Article continues below this ad
The debate over the Greatest Team of All Time, just like the MJ vs LeBron debate, will never yield a definitive answer. But if Number 23's comments about the Warriors record season are anything to go by, "73-9 don't mean [blank]." While regular-season records represent the highest level of skill and talent, the postseason is all about mental toughness and grit. And, with the duo of Jordan and Jackson, the Bulls would have fancied themselves in any matchup in the playoffs in any given era.