'No Offense': Bradley Beal Reveals Why He Hated to See Michael Jordan Play for Washington Wizards
Published 04/26/2021, 1:23 AM EDT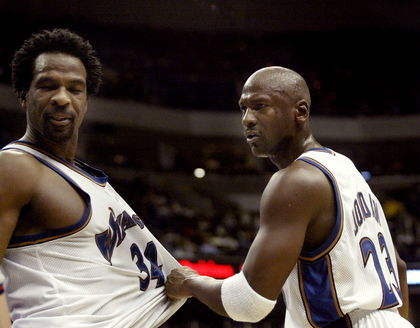 ---
---
The Washington Wizards are playing like a top-notch NBA team lately. They've won 10 of their last 11 games, climbing up the EC ladder and now sitting at a convincing 10th position. If they continue the glorious run, their play-in chances, which were looking grim in March, will soon become a reality.
ADVERTISEMENT
Article continues below this ad
On Sunday night, the Wizards defeated the Cavaliers 119-110 even after trailing until the final quarter. As always, Bradley Beal remained the top scorer for the team and helped the offense during the clutch time. But it was something that he said later that became the headline.
Bradley Beal on Michael Jordan's time in Washington
ADVERTISEMENT
Article continues below this ad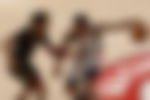 Michael Jordan, upon retiring from the Bulls after the 1998 championship win, joined the Wizards as their VP of Basketball Operations. Soon, an itch to make a return forced him to come out of his retirement to play for the Wizards in 2001. That very year, MJ first saw the Wizards losing eight straight games in November and then winning nine consecutive games in December. 
Now, the Wizards themselves are on an 8-game win streak, something that is happening after 19 years in the franchise history. In the post-game interview, just as Beal learned this, he reacted with a reflexive "damn". Then, he honestly added how he did not enjoy MJ playing for any other jersey than the Bulls' iconic red. Check out his comments –
Bradlley Beal when told Michael Jordan was on the Wizards the last time they won 8 straight: "Damn."

— Chase Hughes (@ChaseHughesNBCS) April 26, 2021
Bradley Beal on Michael Jordan playing for the Wizards: "I hated that he came back and played because I always wanted him to be, no offense D.C., I always wanted him to be a Bull for life."

— Chase Hughes (@ChaseHughesNBCS) April 26, 2021
Air Jordan, even after averaging 21.2 points, 5.9 boards, 4.4 assists, and 1.5 steals for the Wizards across two seasons, failed to help their playoff chances. It was an unceremonious ending to his otherwise unmatched career, and perhaps, that did not amuse the young fan in Beal. 
Read Also – Bradley Beal Reportedly Enjoys Privileges Akin to LeBron James on Washington Wizards
Wizards guard's only memory of MJ in DC colors
Interestingly, the 27-YO Bradley Beal was just 9-YO when MJ finally hung his Nike sneakers and left the game in April 2003. So naturally, there is not much that the Big Panda remembers of MJ's 2-year stint. But he does remember a particular play where Jordan blocked Bulls' Ron Mercer and stole the ball in an epic duel. 
Bradley Beal says the only memory he has of Michael Jordan on the Wizards was his epic two-handed block/steal of Ron Mercer.

— Chase Hughes (@ChaseHughesNBCS) April 26, 2021
ADVERTISEMENT
Article continues below this ad
In this game, MJ had scored 29 winning points against his former team and helped the Wizards win 89-83. If this memory of Beal is anything to go by, one can expect him to seek inspiration from MJ and help the Wizards reach the playoffs this year.
ADVERTISEMENT
Article continues below this ad
In the coming week, they'll face some tough challenges coming from the Spurs, the Lakers, and the Mavericks. Do you think their winning streak can still touch double figures? Help us know in the comments.