"Nobody Cares..When You're Consistently Choking": James Harden Torn to Shreds After Luka Doncic Debate Ignites NBA Twitter
Published 12/31/2022, 7:24 AM EST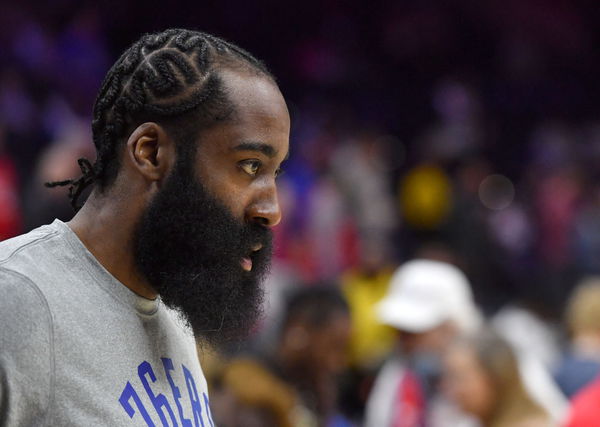 Dallas Mavericks superstar Luka Doncic is currently smashing records left and right and in the process, he has prompted a debate involving Philadelphia 76ers' James Harden. The 2018 EuroLeague champion recently created an impressive stat line of 60-21-10 during the Mavs' matchup against the New York Knicks. While Doncic's newest achievement has put the spotlight on him, several fans argued that Harden did not receive the same appreciation for his performance during the Houston Rockets vs Orlando Magic game in 2018.
Luka Doncic is rapidly rising to the top with his outstanding performances and the Slovenian basketball superstar's game against the Knicks proves just that. However, he has triggered discussions surrounding the efficiency of stat lines in gauging the impact of a player on a game.
NBA Twitter slams James Harden amid ongoing Luka Doncic debate
ADVERTISEMENT
Article continues below this ad
Dallas Mavericks star guard Luka Doncic recently made headlines following the Mavs' historic win over the New York Knicks. The Mavs scored 126 to the Knicks' 121 after the game went into OT following a tie in the fourth quarter. This marked the Mavs' 20th win of the season, placing them fifth in the Western Conference. However, the highlight of the entire game was Doncic's startling showing. The 23-year-old point guard scored 60 points, 21 rebounds, and 10 assists in what was one of the best regular season performances in NBA history.
While Mavs fans celebrated Doncic's newest achievement, a recent post indicated that Philadelphia 76ers player James Harden was being overlooked amidst all this. The former Houston Rockets superstar had led his team to victory over the Orlando Magic in 2018, becoming the first player to score 60 points. Harden and Doncic are both tied for the record of highest-scoring triple-double in the league's history. Therefore, many felt that Harden was not appreciated as much as Doncic for his performance.
Evidently, NBA fans pushed back with reasons of their own to argue the claims. Below are a few of the tweets.
False , nobody cares about numbers when you're consistently choking !

— Geno Da Don 🪬 (@ThaRealVincee) December 30, 2022
Ball hogging and shot chucking takes no skill, anyone can do that.

— 🦌 (@TroIledByAkumpo) December 30, 2022
He always freezes up in the playoffs, until that changes he is C tier

— Judy Gemstone (@Carichampionsoc) December 30, 2022
False. He doesn't get the respect because he disappeared every time he had a chance to get to the finals.

— ZTR88 (@ZTR88) December 30, 2022
Ball hogging, flopping, begging for calls, that's all he did

— Hassan Syed (@hassanlakers24) December 30, 2022
False plus Flop and Freethrow Merchant

— Groovy (𝒕𝒆𝒅𝒅𝒚) (@GroovyDaNuggboy) December 30, 2022
When it became evident that you'd never see that level of play from him in important post season matchups I think people stopped caring as much.

— Brandon Pitter (@_pitter11) December 30, 2022
Interestingly, fans were quick to point out that the saturation of James Harden praises was a direct outcome of him underperforming in the crucial games of the playoffs. On the other hand, Doncic has proved himself to be pivotal in the playoffs despite not making it the NBA Finals yet.
Mavs vs Knicks
Three-time NBA All-Star Luka Doncic gave an historic performance on December 27 at American Airlines Center. The Mavs were trailing by at least nine points with just over 30 seconds left on the timer. However, the game was then pushed to overtime after Doncic tied the scores with a clutch bucket from an intentionally missed free throw. The Mavs didn't need any more incentives to edge out the Knicks in OT.
ADVERTISEMENT
Article continues below this ad
Apart from Doncic's impressive stats, teammate Spencer Dinwiddie added 25 points, six rebounds, and five assists. Mavs forward Christian Wood also scored 19 points, nine rebounds, and two assists.
WATCH THIS STORY: James Harden and other NBA stars give flowers to Lionel Messi after world cup win 
ADVERTISEMENT
Article continues below this ad
Edited By: Satagni Sikder