'Nobody Gives a F**k About That Sh*t': DeAaron Fox Claims Sacramento Kings Unaffected by Marvin Bagley's Trade Saga
Published 01/07/2021, 4:39 AM EST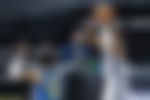 ---
---
The Sacramento Kings haven't been in the best of the forms. With three victories and four losses, they find themselves as the seventh-best side in the Eastern Conference.
ADVERTISEMENT
Article continues below this ad
Not only have their stars been inconsistent, but their off-court issues haven't helped them either. Disgruntled star Marvin Bagley III wants a trade from the team. What made this worse was that his parents recently took to Twitter and demanded a trade. For a young side with playoff aspirations, this trade saga might not help their case.
De'Aaron Fox says Kings unaffected by Bagley's trade Saga
ADVERTISEMENT
Article continues below this ad
Over the years, De'Aaron Fox has transformed into one of the best young point guards in the league. Fox recently spoke with Matt Barnes and Stephen Jackson in the latest episode of the All The Smoke podcast.
When asked about whether the Kings were bothered by the Bagley situation, the 23-year-old has an interesting response. He said, "Nobody is really worried about it, to be honest… Nobody is worried about it. People think that I am just trying to say it to the media, but like I told my people that 'you know what. Nobody gives a f**k about that s**t.' We had a practice, we had a game, nobody is thinking about that s**t. Obviously, we got an ass whooping yesterday… As far as the Twitter stuff goes, nobody is worried about that."
Fox further elaborated and said, "If we would have won that game, this s**t would have been over. Nobody would have talked about it most likely but we got blown out. Everybody thinks that the chemistry is f****d up and now it's just a whole other thing you gotta listen to."
Why should the Sacramento Kings trade Marvin Bagley?
The Kings drafted Bagley in 2018 with their 2nd overall pick. They picked him over better players like Luka Doncic and Trae Young. One could argue that they already had Fox and Buddy Hield, so they didn't need another guard. Therefore, they thought Bagley was the perfect option.
ADVERTISEMENT
Article continues below this ad
But the Kings haven't been able to get the best out of him, and he hasn't shown any star potential since arriving either. Bagley has also missed a lot of games due to injury early into his career.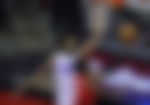 Offloading Bagley could ensure more minutes for Whiteside, who has proven to be a solid big man in the league. Whiteside is coming off of a career-high season and can be a much better option at the center position.
ADVERTISEMENT
Article continues below this ad
Given how young Bagley is, he is still an asset, and the Kings might be able to add some much needed veteran experience in exchange for him.