'Not Better Than Magic': Warriors Veteran's 'Greatest Point Guard' Claim on Stephen Curry Calls for NBA Twitter Backlash
Published 06/18/2022, 8:30 AM EDT
Stephen Curry and the Golden State Warriors became NBA champions again after defeating the Boston Celtics in Game 6. It was their fourth title in the last eight years. And Curry finally won the Finals MVP after missing out the last three times. While it solidified his place among the greats of the game, one Warriors teammate feels that Curry is now the greatest point guard of all time.
Steph became the first player in NBA history to win both the MVP and the Finals MVP awards unanimously. Curry's legacy cannot be questioned now as he has won everything there is to win.
ADVERTISEMENT
Article continues below this ad
In a season where he broke the record for all-time 3-pointers made, won the All-Star game MVP after going berserk from deep, and breached the 20,000 points mark, winning the Finals MVP must have felt like the cherry on top of the cake.
Fans thrash Iguodala for his take on Stephen Curry
After the Finals win, Andre Iguodala said that Curry solidified himself as the greatest point guard ever. While few fans supported Iguodala's claim, most fans were of a different opinion. They made their feelings pretty clear about who the greatest point guard of all time is.
Someone please explain to me what makes Curry a better PG than Magic

— Arnaud Bouanga (@Princeofloango) June 17, 2022
LMFAOOOOOOOOOOOOOOOOOO not even close. If you know basketball, Magic is top 3 all time. Magic was a 5x Champ withhold being the best player on 3 of his rings. Curry was robin on more than half his rings. 😭😭😭😭

— Mendo (@Mzndoza) June 17, 2022
Magic Johnson has more rings, MVPS, finals MVPS, all star selections, and all nba selections in less seasons than Steph (12 compared to Steph's 13 if you don't count Magic's brief 32 game return years after his HIV diagnosis). Steph hasn't solidified anything, as great as he is

— Braeden Steele (@BraedenSteele02) June 17, 2022
Magic got 5 rings and better at everything besides shooting

— ⚠️ (@CelticsAndKanye) June 17, 2022
While it is not certainly wrong to have the argument now, the legacy of Magic Johnson cannot be forgotten, who is still considered as the greatest point guard of all time by most of the world.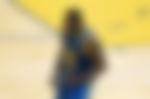 ADVERTISEMENT
Article continues below this ad
Magic is a 5-time NBA champion, 3-time Finals MVP, and 3-time MVP among a plethora of achievements in his Hall of Fame career. The Los Angeles Lakers legend was a pioneer of the changing game style in the 1980s. His rivalry with Larry Bird throughout the decade helped popularize the sport at a time when the league was suffering from viewership and TV ratings.
WATCH THIS STORY: Magic Johnson's flamboyant lifestyle shown in the HBO series 'Winning Time' explored
While Steph has changed the game drastically during his time, Magic saved the league from bankruptcy. Steph Curry is easily the greatest point guard of this generation. No one matches can match his achievements and impact on the game.
ADVERTISEMENT
Article continues below this ad
However, Magic did everything Steph did and more. They are the two best point guards ever, but Magic is still ahead of Curry, for now.
Do you think Stephen Curry is better than Magic Johnson? Let us know in the comments.