'Not Gonna Be LeBron': Shaquille O'Neal Passes Another Remark on Utah Jazz Center's Contract
Published 04/19/2021, 9:37 PM EDT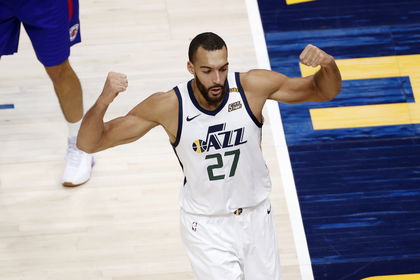 ---
---
Last year in December, Utah Jazz placed gigantic bets on the names of Donovan Mitchell and Rudy Gobert. At that point, their contract extensions raised many eyebrows as critics discarded any claims that the players were worth that fortune. Today, however, after Utah's gamble has paid off, have taken a step back on the matter.
ADVERTISEMENT
Article continues below this ad
Among the famous names that were unhappy with Rudy Gobert's salary, was that of Shaquille O'Neal. Now, the legendary retired center turned NBA analyst has felt the need to clarify his earlier stand against Rudy.
Shaquille O'Neal speaks about the Utah Jazz Center
ADVERTISEMENT
Article continues below this ad
After Donovan Mitchell received a $195 million 5-year extension to his rookie contract, the Jazz showered the same love on their Center. Rudy Gobert closed the $205 million deal and became the league's first center to sign such an extension. Shaquille O'Neal had then condemned the offer and raised concerns about Utah's decision. Today, however, he's speaking a different language.
In a recent interview, the 4-time Champion expressed, "I'm jealous, but I'm happy. I'm jealous because I always thought that you had to have Michael-Jordan, superb-type numbers to get that type of money. That's what it was in my era, but I'm happy for the kids."
Back in the days, Shaq had signed a $120 million 7-year extension with the Lakers, which stands smaller than Rudy's offer.
However, the NBA Hall of Famer is on a personal project to make people happy, and perhaps he found his way to make Rudy happy. He went on to add, "Rudy Gobert is not the average-type, big-guy NBA player no more. 'Cause the average big they're looking for now is a guy that can pick-and-pop and do whatever. Rudy Gobert's big, tall, plays hard, plays great defense, Defensive Player of the Year, and he's making $200 million."
Read also – Joe Ingles Reveals The Mentality the Utah Jazz Had Before Facing Kobe Bryant in His Last Game
Shaq compares Rudy Gobert to LeBron James, Kobe Bryant, and others
The French Rejection, Rudy, certainly does not have the numbers that can match with that of legends like Michael Jordan, LeBron James, or Kobe Bryant. He is averaging a double-double for the fifth straight season now, but he is not known for his scoring.
ADVERTISEMENT
Article continues below this ad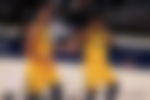 Shaq added, "You're not gonna be LeBron. You're not gonna be Kobe. You're not gonna be Shaq. You're not gonna be Garnett. But I think there's a lot of big guys even today that can do what he can do. So when I tell the story, people think, 'Oh, you're just jealous.' Yeah, I am jealous he's making $250 (million)."
The big man is averaging 14.4 points, 13.6 rebs, and a career-high 2.9 blocks this season. One might never find him taking a three-point attempt, but his field goal percentage of 67% makes up for it. 
ADVERTISEMENT
Article continues below this ad
Can he go the long way, do justice to his contract, and help his team win the WC Finals?