Not LeBron James but KCP and Markeiff Played a Big Role in Andre Drummond's Trade to Lakers
Published 03/31/2021, 4:30 PM EDT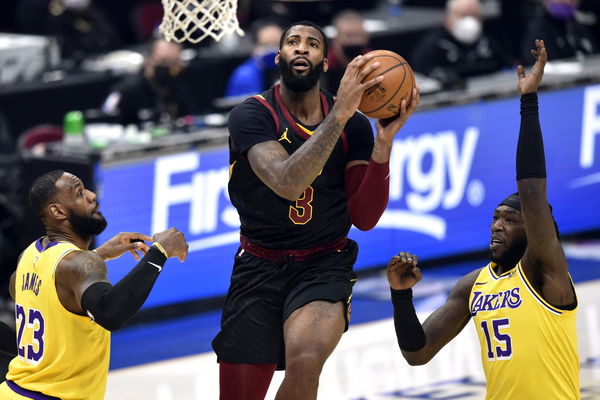 ---
---
The Los Angeles Lakers are finally back to their winning ways after a series of losses led them to slip down in the Western Conference to the fourth spot with a 30-17 record. But that's not the only good thing that has happened to them in the past few days. Other than showing what they are capable of even without Anthony Davis and LeBron James, they bagged the biggest target for this season's buyout market. Andre Drummond is finally going to be part of the Los Angeles Lakers.
ADVERTISEMENT
Article continues below this ad
Many teams had their eyes on Drummond. From LA Clippers to the Brooklyn Nets, the former Cleveland Cavaliers player was in high demand. However, not only was he most linked to the Los Angeles Lakers, he ended up going with them too. In fact, Andre believes that some of his former teammates who are now part of the Lakers are making this switch easier for him.
Markieff Morris and Kentavious Caldwell-Pope made it possible
ADVERTISEMENT
Article continues below this ad
Andre Drummond isn't going to be entering a strange land when he debuts for the Lakers. When he was playing for the Detroit Pistons, he was teammates with two of the Lakers' current players, Markieff Morris and Kentavious Caldwell-Pope. While Kentavious had joined the Pistons just a year after Drummond, Morris had a much shorter stint with them.
When asked about his move to the defending champions, Drummond stated, "Yeah, KCP and Markieff have made this transition very easy for me. From the moment I got here, they showed me everything I needed to know, got all the film I needed to get to learn their schemes offensively and defensively."
"Being on the same court as them again is an incredible feeling. Pope, I haven't played with him in a couple of years, and Markieff, playing with him last year, so the chemistry was already there." 
Chemistry is crucial for a team when they add new players to their roster. And because Drummond knows two of their players, he will feel much more comfortable fitting in. It will also help others understand his game better.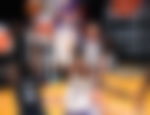 What does Andre Drummond add to the Lakers' star-studded roster?
The Lakers are already filled with players that have the best IQ in the league. So, what is it that he brings differently to the table? Well, it looks like Markieff Morris has an idea.
"We're gonna get a hard-working guy, he's gonna change the game a lot for us with his size, his rebounding ability and his ability to block shots," said Morris. "I think that being around this type of team is going to raise his level of play just like it does for everybody else and I think he's gonna be a great addition."
ADVERTISEMENT
Article continues below this ad
With LeBron James and Anthony Davis out, Morris believes that Andre will add some more energy to the team. "It will be great to get some great energy around here. We're waiting for the two big dogs to come back too, they're coming back with great energy."
Although there is no set timeline for James and Davis' return, the Lakers look like they might be able to hold the fort until they return. Drummond might be making his debut for the Lakers against the Milwaukee Bucks. Will he do justice to the hype around him?
ADVERTISEMENT
Article continues below this ad
Read also- NBA Rumors: What Lakers are Looking for After Andre Drummond Signing