'Not This Year': Stephen Curry Already Under Scrutiny For Pulling Out Old Antics Amidst New Rules
Published 10/04/2021, 11:34 PM EDT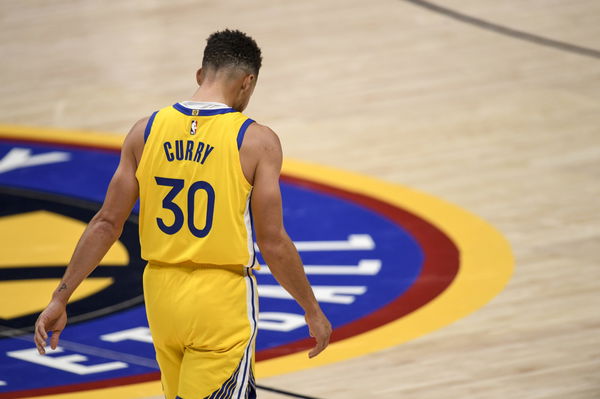 ---
---
Talking about the best shooters in the league right now, Stephen Curry definitely tops the list. In fact, the only other entity giving him some competition in this category, is his former teammate, Kevin Durant. A unique and incredible skill set is required to master every single level of the offense, but one also needs to excel at drawing fouls.
ADVERTISEMENT
Article continues below this ad
But it seems like players just like Steph, now need to be wary of this tactic as the new changes in rules will make it very difficult to reach the free-throw line. Trae Young and James Harden are two other players who have really benefitted from foul drawing. So much that when their opponents anticipate such a move, it helps them create open shots for themselves.
But in June, Shams Charania reported, "The NBA is expected to implement new rules to limit non-basketball moves that would result in an offensive foul or no-call beginning next season." In fact, Shams even posted the actions that referees will be trained to officiate.
ADVERTISEMENT
Article continues below this ad
NBA referees will be trained to properly officiate the following actions used to draw fouls:

– Shooter launches/leans into defender at abnormal angle

– Shooter kicks leg at abnormal angle

– Offensive player abruptly veers off path (sideways/ backwards) into defender https://t.co/9OzldXvH6u

— Shams Charania (@ShamsCharania) June 22, 2021
With that in mind, the impact of the rule is already drawing attention. Since the preseason has begun, Steph has been called out already on social media for trying to pull off his old acts to draw a fall in a game against the Portland Trail Blazers. And now people are reporting it with the caption, "Not this year!"
WATCH THIS STORY: Stephen Curry, Russell Westbrook and Other NBA Stars Who Have Dazzled at the Met Gala Over the Years
Stephen Curry was one of the prime examples while establishing this rule
Clearly, those times when deliberate fouls were extracted are officially over. Every avid NBA fan has seen that some players have made it a habit to jump sideways and backward. So that they get easy fouls and get to the charity strip. And it's actually a smart move on their part to figure out this loophole.
ADVERTISEMENT
Article continues below this ad
However, the NBA has put an end to all of it. The league went on a spree on Twitter, explaining what this rule will be all about. And with Paul George, Stephen Curry was also used as an example of what can't be done anymore.
An offensive foul should be called on this play, as the offensive player uses his right shoulder and hip to dislodge the defender and the offensive player lands outside his normal floor position. (5/7) pic.twitter.com/w0Fc9z3p13

— NBA Official (@NBAOfficial) August 8, 2021
Watch This Story
ADVERTISEMENT
Article continues below this ad
This is definitely a decision in the right direction. The defense needed a helping hand and they got exactly that. And now these great players will need to work harder for those extra points, making the game even more interesting for the audience.