'One of Michael Jordan's First Good Draft Picks'- NBA Analyst Heaps Praise On LaMelo Ball
Published 02/15/2021, 1:00 PM EST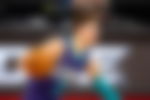 ---
---
LaMelo Ball is possibly the next big thing in the NBA. He is proving to live up to the hype everyone had put on his elder brother Lonzo a few years ago. Maybe that experience was what tapered the expectation for LaMelo this season. But they shouldn't have been, and LaMelo is proving it every night on the court.
ADVERTISEMENT
Article continues below this ad
The Hornets are locked in the playoff race, a very rare feat for the team owned by Michael Jordan. Jordan has had a poor record in the front office, with his teams being just as unspectacular as he was spectacular on the court. But drafting LaMelo has been a complete hit for Charlotte according to Jay Williams on ESPN.
ADVERTISEMENT
Article continues below this ad
"He's a walking highlight. Social media-wise? He's going to be a bigger draw than Zion Williamson. You're going to see LaMelo Ball for the lifestyle, the flashy passes, and his scoring. He's going to be a social media dream. Michael Jordan has got it right and he'll have the rookie of the year. And one of his first very good draft picks."
LaMelo Ball: Could he be a genuine superstar?
ADVERTISEMENT
Article continues below this ad
LaMelo Ball may just become the first superstar in a market like Charlotte. While the Hornets saw Kemba Walker develop into a perennial all-star, his impact wasn't as deep on the franchise. However, LaMelo can catapult Charlotte into the mainstream with his magnetic social media appeal.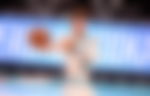 Lonzo Ball suffered from the issues that come with being in a big market like Los Angeles. LaMelo is luckier that he is on a low-profile team and not the LA Lakers. He can develop away from deep scrutiny, as his team is considered to be over-achieving by being in the running for the eighth spot in the East.
ADVERTISEMENT
Article continues below this ad
Michael Jordan has struggled to make draft picks and sign valuable players. Even though Gordon Hayward is proving to be a great signing, his contract still looks unjustifiably large. But with him, LaMelo, and the core that Charlotte is slowly developing, the future could be surprisingly bright for the Hornets.