One Record Giannis Antetokounmpo Can Accomplish That Neither Michael Jordan or LeBron James Could
Published 03/02/2021, 4:30 PM EST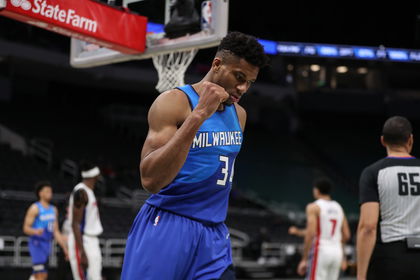 ---
---
Giannis Antetokounmpo is one of the best players in the NBA today, despite his recent struggles. The 'Greek Freak' has consistently shown, for the past few seasons, that he is one of the most dominant players to ever step foot in the NBA. But he could be on track to accomplishing something that even Michael Jordan and LeBron James could never do.
ADVERTISEMENT
Article continues below this ad
Giannis Antetokounmpo has the chance to make history
This season, if Giannis Antetokounmpo wins the MVP, he will become a consecutive three-time MVP. Only three players in the history of the NBA have won the MVP title three times consecutively – Bill Rusell, Wilt Chamberlain, and Larry Bird. Since Bird's last MVP win, no player has achieved this historic feat.
ADVERTISEMENT
Article continues below this ad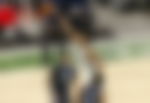 Since 1986, most players have only been able to win two consecutive MVP titles. Players like Magic Johnson, Michael Jordan, Tim Duncan, Steve Nash, LeBron James (twice), Steph Curry, and Giannis Antetokounmpo have been able to win the MVP title two years in a row. However, Giannis could make it three if he wins the MVP this season.
Can Giannis beat others to win an MVP?
The Grecian has a long road ahead of him. Currently, he is not one of the front-runners for MVP. Giannis has several players ahead of him, who are putting up excellent numbers this season, while their team is winning. This includes players like LeBron James, Joel Embiid, Steph Curry, Damian Lillard, and Paul George.
ADVERTISEMENT
Article continues below this ad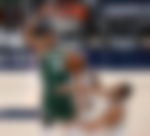 Furthermore, there will be people who will hesitate to vote for Giannis Antetokounmpo. Giannis won the MVP for the past two years. However, his performances in the NBA playoffs have been nothing compared to his regular-season numbers. The past two seasons, despite being the MVP and having the best record in the NBA with the Bucks, Giannis hasn't reached the NBA finals.
ADVERTISEMENT
Article continues below this ad
Can Giannis Antetokounmpo win his third consecutive MVP title this season? He has a lot of work ahead of him if he wants to surpass the main contenders for the title this season. However, it might not be enough to convince the voters from last season who have buyer's remorse from voting for him in the past season.