'Only LeBron Can Do These Things And Never Get Hurt': Fans React to Ja Morant's Injury vs Hawks
Published 11/26/2021, 10:03 PM EST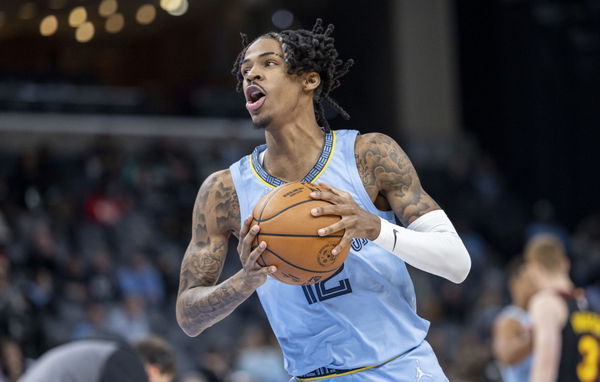 It's bad news from the clinic for all the Memphis Grizzlies fans, as Ja Morant might have to miss a considerable number of games after suffering a non-contact leg injury in the first quarter while playing the Atlanta Hawks. The Grizzlies were showing signs of potential this season, and the trio of Morant, Desmond Bane, and Dillon Brooks was showing hopes of clinching another playoff berth.
However, it seems those aspirations might prove to be a little far-fetched since it's possible that their superstar Morant might have to miss vital games ahead. As usual, fans had their own reaction to the devastating news.
What happened to Ja Morant?
ADVERTISEMENT
Article continues below this ad
The Memphis Grizzlies offensive production has been running because of Morant. He is the reason they have climbed as far up in the Western Conference, as they are now, with a 9-9 record. And winning against the Atlanta Hawks is important for them to save face after their disappointing blowout loss against the Toronto Raptors.
However, the game had just begun, and the Grizzlies saw their superstar go down on the floor. There was no contact with anyone, yet he was seen clinging to his knee, as if in major pain. Eventually, he was taken to the locker room.
There was a deafening silence in the arena as fans waited for an announcement on the state of the injury. Although no official statement about his status was made, it's highly unlikely that he will return anytime soon. Fans took to Twitter to express their views on what transpired.
if this ja Morant injury is serious idk what to do with life

— Pranay (ONLYHOOPS)(9-9) (@0nlyHoops) November 27, 2021
Sliver lining in this Ja Morant injury. Taylor Jenkins about to be exposed as a bad coach.

— JB (@Drphilgood92) November 27, 2021
Ja Morant is a hybrid of Rose and Russ. A knee injury was eminent, only LeBron can do those things and never get hurt

— 1am in The Bronx (@BigGameJimmy) November 27, 2021
If Ja Morant tore his ACL then yes, the injury could very well change the course of his career.

— Xi Nevett (@XiNevett) November 27, 2021
WATCH THIS STORY: Here's How LeBron James, Russell Westbrook & Other NBA Players Chose to Celebrate Thanksgiving in the Past Few Years
ADVERTISEMENT
Article continues below this ad
The Memphis Grizzlies star was on the path to an MVP season
This has definitely been a breakout season for the 22-year-old. Not only is he averaging 25.3 points and shooting 47.8%, but also has 7.1 assists, with 5.8 rebounds. In fact, he was already pushing himself into MVP conversations for the 2021-22 NBA campaign.
Even though he might not win it this year, the future has big things for a youngster of his potential. And an MVP award is certainly in the works for him.
ADVERTISEMENT
Article continues below this ad