Outrage Erupts in Russia Over Brittney Griner As Notorious Group Sends 3 Word Message
Published 11/13/2022, 12:05 PM EST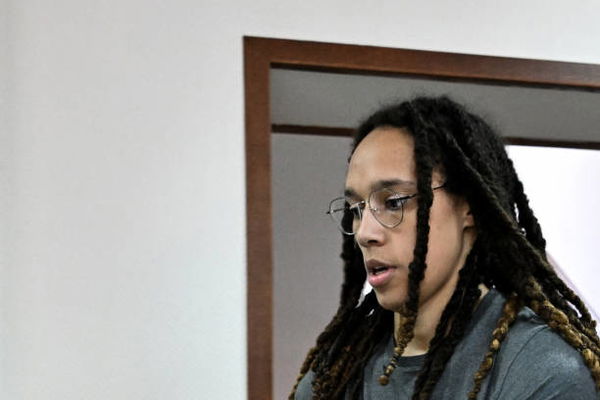 Brittney Griner continues to fight for her freedom alone in Russia. In fact, she is in detention in the country for nearly nine months and the situation appears to get worse with each passing day. Amid all the chaos, a notorious feminist protest and performance art group in Russia has come in support of Brittney Griner. However, their stance has left a lot of people outraged.
Russian feminist and social activist group Pussy Riot has recently displayed their support for Brittney Griner and advocated her freedom on Twitter with a three-word message. However, the people of Russia were not too thrilled about the group's stand.
ADVERTISEMENT
Article continues below this ad
Griner has actively played for the Rusian women's basketball league team UMMC Ekaterinburg during every WNBA offseason since 2014. She became a popular star in the country after winning three Russian National League championships between 2015-17. However, there has been a lack of support for Griner in Russia despite her popularity in the country.
Pussy Riot calls for the freedom of Brittney Griner
In a rare show of support from Russia, Pussy Riot took a courageous stand and demanded Griner's freedom on Twitter. Moreover, the group shared a picture of a disappointed Griner stuck in jail with the message, "FREE BRITTNEY GRINER"
Griner is stuck in Russia since February. She was detained at a Moscow Airport by airport authorities under drug possession and smuggling charges. Subsequently, a Russian court sentenced her to nine years in prison for carrying vape cartridges filled with a reportedly small quantity of cannabis oil into Russia. After the Russian judiciary denied her appeal for leniency last month, Brittney Griner is now headed to an undetermined Russian penal colony.
All hope for Griner's freedom lies in the prisoner swap negotiations after no relief came from the Russian legal system. The State Department has offered to release a convicted arms dealer in exchange for BG and US marine Paul Whelan. However, the lack of a positive response from the Kremlin has just made the situation more complicated.
Russia disapproves Pussy Riot's message
Pussy Riot's support has come during the toughest phase of the WNBA star's life. However, a section of people seemed to be in disagreement with the feminist protest group's message.
WATCH THIS STORY: White House expresses stern disapproval of Dennis Rodman after he disclosed Brittney Griner rescue plans from Russia
Here are some of the reactions from the fans.
Let this be a lesson to Americans. You can't go into any country and do what you please. Respect other countries and their laws

— Chp (@chchpchp) November 12, 2022
Keep the traitor locked up, I mean unless she's scheduled for hard labor at that time

— Paulie Beernutz (@PaulieBeernutz) November 12, 2022
ADVERTISEMENT
Article continues below this ad
Some fans expressed their support and love for Griner too. They also advocated for her swift release.
ADVERTISEMENT
Article continues below this ad
Incidentally, Pussy Riot is infamous for their protests against the authoritarian stances of the current Russian government. Many activists of the group have been sent to Russian penal colonies, like Griner, for speaking out against the government.
Hopefully, Griner will find a way out of Russia and return to her loved ones soon. Do you agree with the group's message? Let us know in the comments below.