'Over the Hump': Warriors Reporter Sympathises with Klay Thompson and Discusses His Redemption
Published 03/17/2021, 7:00 AM EDT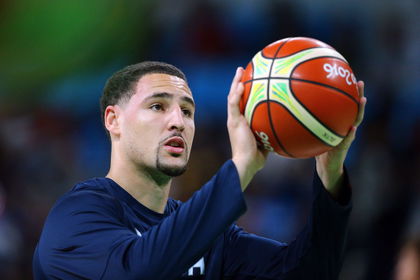 ---
---
Klay Thompson is going through a sea of setbacks that are pushing him away from the love of his life, Basketball. But just as his team's name goes, he has the blood of Warriors and that rush won't let him stop unless he comes back stronger than ever. 
ADVERTISEMENT
Article continues below this ad
His most recent interview made rounds on the internet, reinvigorating a desire in his fans to see him in that #11 yellow jersey. Amongst the fortunate ones who could read his emotions face-to-face was Kendra Andrews, a Warriors reporter. She later gave her candid reaction to the very emotional interview.
Klay Thompson and his burning desire
ADVERTISEMENT
Article continues below this ad
Kendra, 23, who recently joined the Bay Area after her successful stint with The Athletic, detailed her experience of hearing Klay Thompson talking his heart out. The reporter expressed, "I assumed that it is very hard for him to be almost back from his injury from last season and then tear his Achilles and go through all that during a pandemic.
"Klay mentioned personal losses in his life, I can imagine that it was hard for him. But to hear in his voice, the way he spoke, you could tell how much this sport means to him. One quote he said that really stuck in my mind is, 'I genuinely love basketball so much, it's been hard to find happiness without it'." 
In the past year alone, Klay had to deal with the loss of his grandmother, his idol Kobe Bryant, go through the pandemic, and then a resurfacing injury. That can boggle even the strongest of the people, but not Klay, who is burning to make a solid return. He was only wise enough to accept that he won't play 40 minutes the day he enters, but he was passionate when he said he will bring back the old form.
In the same podcast, Kendra added, "over the past year, we've all had to give up a lot of things we loved doing. So we identify with what he was saying. Then you just think, this happened to him two years ago and then happened again. I agree that it was good to speak with him and see him. He's probably over the hump of the hardest part and weighed down to be back.
"You hope for a person like Klay that he can make the return that he wants and his teammates want."
Read also – Warriors' Klay Thompson Has a Life-Altering Epiphany as he Continues His Days in Rehab 
ADVERTISEMENT
Article continues below this ad
How is the Warriors' guard's injury, and when can he make the return?
The latest development on his recovery is that the star is championing his injury pretty well. He has been "walking boot off" and also working on his mobility through calf raises and other advised low-intensity exercises. This lover of boats is also talking to other players who had to overcome similar injuries to understand their mindset.  
Even if the Warriors qualify for the postseason, chances are that Klay would only be cheering from the sidelines. Achilles injuries of his type normally take a year to heal and hence one can expect his comeback in 2021-22. For now, it is both Klay and his fans waiting for the Warriors' second-team to pull a wonder.
ADVERTISEMENT
Article continues below this ad
Also recommended – WATCH: Klay Thompson Bonds with LeBron James After Lakers Crush Warriors