Patrick Ewing Reveals How Michael Jordan Still Mocks Him For Not Being Able to Beat the Bulls
Published 02/19/2021, 5:30 AM EST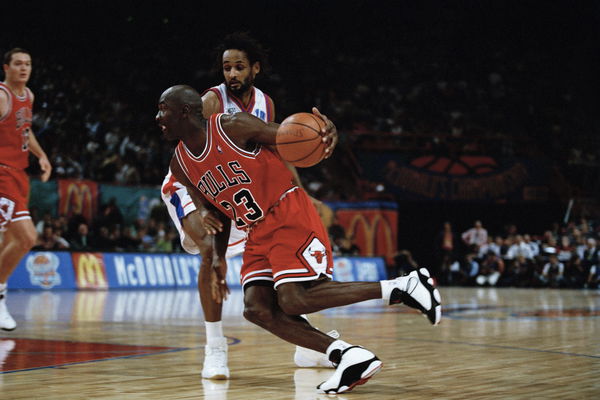 ---
---
Michael Jordan always made it clear that he didn't come to the league to make friends. All he wanted to do was win. While Jordan is arguably the greatest player of all time, he was also the greatest trash talker, ending up making a lot of enemies. Except, his rivalry with Patrick Ewing was never personal.
ADVERTISEMENT
Article continues below this ad
From foes to friends
In the 1990s, the Chicago Bulls and New York Knicks were always going at each other's throats. However, most of the rivalry was one-sided. The Knicks were never able to defeat the Bulls as long as Jordan was on the team. Instead, they eliminated the Knicks from the playoffs in 1989, 1991, 1992, 1993, and 1994.
ADVERTISEMENT
Article continues below this ad
Everybody knows about the famous dunk Jordan performed on Ewing. But even to this day, Ewing admits that they have always been good friends. On ESPN, Ewing was asked about his thoughts on his battles with MJ.
"You know it's funny, Michael and I are very good friends," Ewing explained. "As a matter of fact, he was the one who got me into coaching. He started my coaching by giving me an opportunity here with the Wizards. But back then, we have known each other from high school.
"But we had some remarkable, great battles and the crazy thing is, he talks so much trash that even today he lets me know that I was never able to beat his team. It was like, 'The only time you beat the Bulls was the year that I retired'. If it wasn't for him and his team, I might have been able to possibly have an opportunity to win one, maybe two rings. But he was just so dominant and such a great competitor, that it wasn't in the cards for me."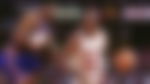 The one time Ewing came close to beating Michael Jordan
ADVERTISEMENT
Article continues below this ad
In the 1993 Eastern Conference Finals, the Knicks somehow were able to manage a 2-0 lead in the series. What looked like a sure-shot win for New York, however, ended up being the most humiliating loss the Bulls delivered to them.
Jordan and the Bulls ended up winning four games straight after. And once again, eliminating the Knicks inches away from a chance at a title. Ewing couldn't be more right. Maybe if Jordan wasn't there, he would have had at least one championship next to his name.
Watch This Story
Unfortunately for him, Jordan couldn't let that happen, but it's commendable how their rivalry didn't continue off the court. It speaks volumes about the kind of person Michael Jordan is.
ADVERTISEMENT
Article continues below this ad
Read also- THROWBACK: How Chicago Bulls Stopped Michael Jordan from Joining the Knicks in His Free Agency