'Peace Broker' Dennis Rodman Became a 'Gift' for $26 Million Worth Comedian After Historic Summit in 2018
Published 11/24/2022, 2:10 PM EST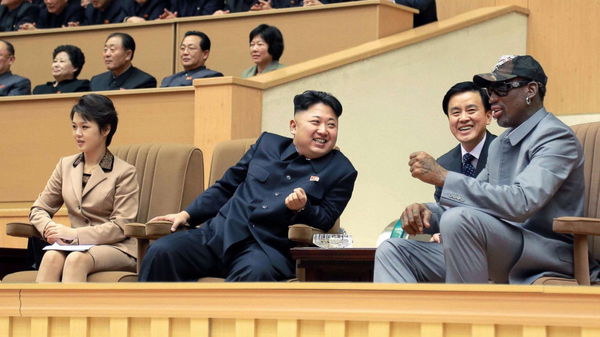 Dennis Rodman is arguably the most controversial personality in the NBA. The five-time NBA champ continued to receive negative attention even after the end of his basketball career. Rodman was heavily criticized for his frequent visits to North Korea and his friendship with Supreme Leader Kim Jong-un. However, Rodman's friendship helped him become a peace broker during the first-ever summit between former POTUS Donald Trump and Kim Jong-un in 2018. The same year, $26 million worth comedian Seth Meyers deemed Rodman as a 'gift' after his historic summit.
ADVERTISEMENT
Article continues below this ad
Dennis Rodman became a part of history when he made efforts to bring the North Korean and US powers together in an attempt to do something which never happened before. Coincidentally, Kim Jong-un is known for his liking of the Chicago Bulls. Back in 2013, Rodman had an opportunity to visit North Korea with the renowned media group as a part of a documentary shoot in a country; which has been isolated from the world for a long time.
ADVERTISEMENT
Article continues below this ad
The two-time All-Star took the opportunity. Hence, he became one of the first American citizens to be hosted by the North Korean supreme leader himself. Rodman received a lot of criticism back home due to his ties with Kim Jong-un. However, his friendship with the North Korean leader made him an important factor during the peace negotiation summit in Singapore in 2018.
Myers deemed Dennis Rodman as a 'gift'
ADVERTISEMENT
Article continues below this ad
After the successful summit in 2018, Rodman received a lot of love from people, including Trump himself. Notably, renowned comedian and Late Night with Seth Meyers host praised Dennis Rodman; as he occupied 85% of jokes in the news. Seth Meyers said, "As comedy writers who have to write about the news, sometimes [it] is very fraught and very scary and very sad. Dennis Rodman is a gift."
Myers suggested that writing jokes about the news was one of the scariest jobs for comedy writers. However, Dennis Rodman, being the center of the news after his Singapore peace summit, was a boon for them. Myers reckoned that even when it was scary to see Rodman as a peace broker between the two countries, his first thought was "Hahaha Dennis Rodman."
ADVERTISEMENT
Article continues below this ad
Watch the Story–10 things Chicago Bulls legend Dennis  Rodman cant live without
Thus, Rodman became an invaluable asset for Myers; and all the comedy writers who had a tough time creating jokes around the daily news.