"Founding Fathers of Sports": Michael Jordan, Muhammad Ali, Pele in Unearthed Picture With Legends Melts Twitter After Sad Demise of Brazilian Soccer Icon
Published 12/30/2022, 12:31 AM EST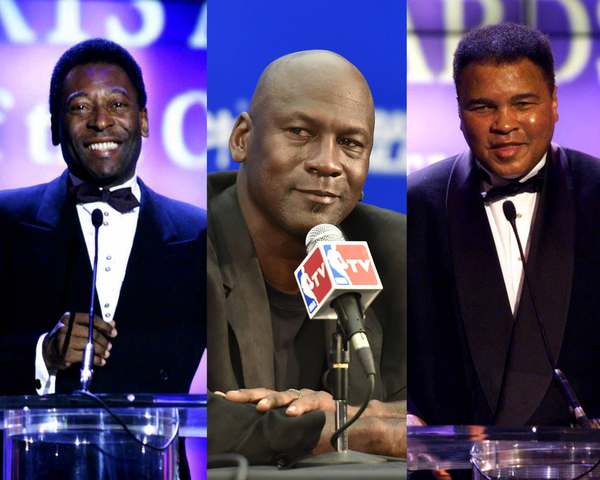 The world of soccer is recovering from the exhilarating world cup season. Amidst this, they were met with a piece of sad news. Earlier in the day, news of the demise of soccer legend Pele left the world shattered. On this day of mourning, love, tributes, and heartful messages instantly poured in from across the globe. People shared wonderful anecdotes and stories of Pele while conveying their condolences to the family. As the world spoke about Pele, a picture surfaced that included the likes of Michael Jordan, Muhammad Ali, Pele, and other legends.
The picture was from 1999. As the century was coming to a close, Sports Illustrated announced a list of Athletes of the century.  This list included Pele, Michael Jordan, Muhammad Ali, Kareem Abdul-Jabbar, and Bill Russell. The others on the list were Tennis legends Pete Sampras, Bill Jean King, Chris Evert, and Monica Seles. Tiger Woods and Joe Montana were amongst the others. SI soon released a photograph of all the athletes dressed in black and white. This legendary picture made rounds on the internet after the saddening news broke.
ADVERTISEMENT
Article continues below this ad
Fans were left teary-eyed by the legendary picture
For sports fans, the picture was greatness personified. Following this, fans pointed out that those in the picture had made their sport great and taken it to the next level. Many highlighted that picture included several championship titles, records, and incredible stat lines. The post left many speechless. Some pointed out that the new generation would be scared by all the greatness. Here are some of the reactions:
The founding fathers of sports

— Happy Pelicans Fan😁⛈⚜️ (@Happypelsfan) December 30, 2022
Pele once mistook Michael Jordan for someone else
While more stories surfaced, an old video of Pele talking about Michael Jordan appeared. The video was from a press conference in Copenhagen in 2009. In 2009, London, Brazil, and Chicago were competing to host the Olympic Games.
ADVERTISEMENT
Article continues below this ad
During this interview, Pele was asked about the six-time NBA Champion and Chicago. Pele's answer resulted in a comedy of errors.
He said, "I don't know if your question is about Michael Jackson (sic) or about another athlete". Here it was, the soccer legend's error.
ADVERTISEMENT
Article continues below this ad
Watch this story:  Best dunks by NBA legend Michael Jordan
He mixed up the names of two famous people from the United States. However, Pele and the entire room broke into a fit of laughter when someone corrected him. This heartwarming video is for the ages and will live forever.
Edited By: Gideon Mathson