Pelicans' Zion Williamson Opens Up About Former College Teammate and Knicks' Guard RJ Barrett
Published 04/18/2021, 3:30 PM EDT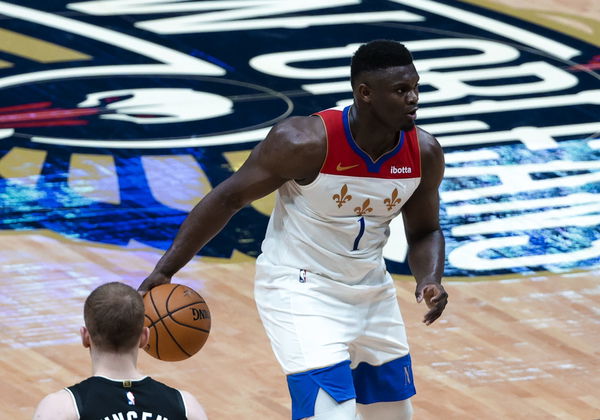 ---
---
Zion Williamson has been one of the most explosive young players in the NBA. While the Pelicans have struggled this year, Zion is having one of the best sophomore years the league has ever seen.
In the 51 games he has played so far, Zion is averaging an insane 26.7 points, 7.1 rebounds, and 3.6 assists per game. He has been pretty efficient from the floor too, making 61.5% of his shots.
Williamson is already showing his potential as a superstar talent, but he still has a long way to go. If he continues to progress the way he has, he will be the face of the league in no time.
Zion Williamson speaks about former teammate RJ Barrett
While he might be dominating the league now, Zion did play a year in college. Playing for Duke Blue Devils, Zion has had his fair share of quality teammates. One of them was Knicks' guard, RJ Barrett.
The Barrett and Zion duo was absolutely terrifying for other defenses and certainly left their mark in college basketball. Barret and Zion finally faced off against each other recently, as the Knicks ousted the Pelicans, 116-106. In a recent interview with ESPN's Malika Andrews, the 20-year-old spoke about his former teammate and how he has progressed in the league so far.
Williamson said, "I mean let me give an honest answer uh in the end of the day I'm happy for him uh it was nice seeing him out on the court because that was my first time actually getting to play against him but it's like my mom taught me that's nice enough for him but I got my own business to handle over here."
While Zion has been in the spotlight for the majority of his career, Barrett's progression in the league has certainly been slept on so far. Despite being the third overall pick, RJ did not have a blistering rookie year like some of his peers.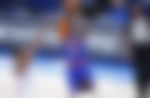 However, he has been truly transformed into a valuable starter for the Knicks. Coach Tibbs has been absolutely crucial for the same. Playing as the primary guard for the team, he is the second most used player in the roster.
Both Zion and Barrett have certainly cemented themselves as key players for both teams. It will be interesting to see how their careers progress.
ADVERTISEMENT
Article continues below this ad