Philadelphia 76ers 2021-22 NBA Schedule: Key Fixtures Against Bucks, Lakers and Others
Published 10/05/2021, 1:00 PM EDT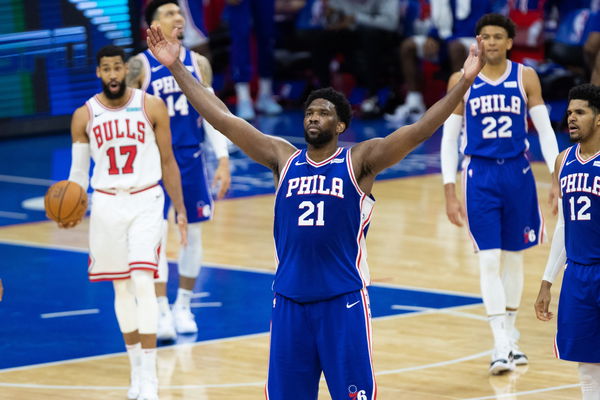 ---
---
It was the ultimate heartbreak for the Philadelphia 76ers in the 2020-21 season. After a roller-coaster campaign, the side fell prey to the Atlanta Hawks in a nail-biting series. Falling just short of the Conference Finals mark, Joel Embiid and co. will have been extremely upset at their performance. On the other hand, the upcoming edition of the league provides hope for the franchise.
ADVERTISEMENT
Article continues below this ad
After an action-packed off-season, the Sixers have begun their pre-season campaign. The entire Ben Simmons saga has hogged the limelight for a while now, but the squad needs to refresh itself as soon as possible. After all, their fixtures for the 2021-22 season do not make things any easier for them. Let's take a look at how the Philadelphia 76ers' regular season is set to unfold in the league's 76th edition.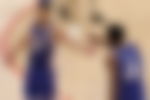 What does Philadelphia's season ahead look like?
ADVERTISEMENT
Article continues below this ad
The Sixers are set to kickoff their campaign on the 20th of October away from home. Following their pre-season clashes, they will face the New Orleans Pelicans in their opening fixture. Two days later, they will play hosts to title-favorites Brooklyn Nets. Joel Embiid and Tobias Harris headline the 76ers attack this year, with the others looking to bridge the gap of Simmons' absence. In November, Doc Rivers' men will be up against the likes of defending champions Milwaukee Bucks and Stephen Curry's Golden State Warriors.
ADVERTISEMENT
Article continues below this ad
As the challenging month of December approaches, the Celtics, Raptors and others await the side. While 'Philly' does have an off-day on Christmas Day, they will travel to Washington to battle the Wizards on the following night. In 2022, the tormenting fixtures continue with some high-intensity match-ups against the league's very best, including the Los Angeles Lakers.
Watch This Story
Philadelphia 76ers schedule for 2021-22 NBA season (All times in ET)
ADVERTISEMENT
Article continues below this ad
| | | | |
| --- | --- | --- | --- |
| Oct 20 8:00 PM | Pelicans | Jan 17 2:00 PM | Wizards |
| Oct 22 7:30 PM | Nets | Jan 19 7:00 PM | Magic |
| Oct 24 7:00 PM | Thunder | Jan 21 7:00 PM | Clippers |
| Oct 26 7:30 PM | Knicks | Jan 23 7:00 PM | Spurs |
| Oct 28 7:00 PM | Pistons | Jan 24 8:00 PM | Rockets |
| Oct 30 7:30 PM | Hawks | Jan 27 7:30 PM | Lakers |
| Nov 1 7:00 PM | Trail Blazers | Jan 29 7:30 PM | Kings |
| Nov 3 7:00 PM | Bulls | Jan 31 7:00 PM | Grizzlies |
| Nov 4 7:00 PM | Pistons | Feb 2 7:00 PM | Wizards |
| Nov 6 8:00 PM | Bulls | Feb 4 8:30 PM | Mavericks |
| Nov 8 7:00 PM | Knicks | Feb 6 3:30 PM | Bulls |
| Nov 9 7:30 PM | Bucks | Feb 8 7:00 PM | Suns |
| Nov 11 7:00 PM | Raptors | Feb 11 7:00 PM | Thunder |
| Nov 13 7:00 PM | Pacers | Feb 12 7:30 PM | Cavaliers |
| Nov 16 10:00 PM | Jazz | Feb 15 7:30 PM | Celtics |
| Nov 18 9:00 PM | Nuggets | Feb 17 8:30 PM | Bucks |
| Nov 20 10:00 PM | Trail Blazers | Feb 25 8:00 PM | Timberwolves |
| Nov 22 10:00 PM | Kings | Feb 27 1:00 PM | Knicks |
| Nov 24 10:00 PM | Warriors | Mar 2 7:30 PM | Knicks |
| Nov 27 6:00 PM | Timberwolves | Mar 4 7:00 PM | Cavaliers |
| Nov 29 7:00 PM | Magic | Mar 5 8:00 PM | Heat |
| Dec 1 7:30 PM | Celtics | Mar 7 7:00 PM | Bulls |
| Dec 3 7:30 PM | Hawks | Mar 10 7:30 PM | Nets |
| Dec 6 7:00 PM | Hornets | Mar 13 6:00 PM | Magic |
| Dec 8 7:00 PM | Hornets | Mar 14 8:00 PM | Nuggets |
| Dec 9 7:00 PM | Jazz | Mar 16 7:00 PM | Cavaliers |
| Dec 11 8:30 PM | Warriors | Mar 18 7:00 PM | Mavericks |
| Dec 13 8:00 PM | Grizzlies | Mar 20 8:30 PM | Raptors |
| Dec 15 7:00 PM | Heat | Mar 21 7:00 PM | Heat |
| Dec 16 7:30 PM | Nets | Mar 23 10:00 PM | Lakers |
| Dec 19 8:00 PM | Pelicans | Mar 25 10:30 PM | Clippers |
| Dec 20 7:30 PM | Celtics | Mar 27 6:00 PM | Suns |
| Dec 23 7:00 PM | Hawks | Mar 29 7:00 PM | Bucks |
| Dec 26 6:00 PM | Wizards | Mar 31 7:00 PM | Pistons |
| Dec 28 7:30 PM | Raptors | Apr 2 12:30 PM | Hornets |
| Dec 30 7:00 PM | Nets | Apr 3 6:00 PM | Cavaliers |
| Jan 3 7:00 PM | Rockets | Apr 5 7:00 PM | Pacers |
| Jan 5 7:00 PM | Magic | Apr 7 7:30 PM | Raptors |
| Jan 7 7:00 PM | Spurs | Apr 9 TBD | Pacers |
| Jan 12 7:00 PM | Hornets | Apr 10 TBD | Pistons |
| Jan 14 7:30 PM | Celtics | | |
| Jan 15 8:00 PM | Heat | | |
WATCH THIS STORY: Which College he Would've Picked, Why he Quit Football, Other Lesser Known Facts About LeBron James