Joel Embiid's Girlfriend Anne De Paula: Relationship History and Other Interesting Details
Published 08/15/2021, 9:19 PM EDT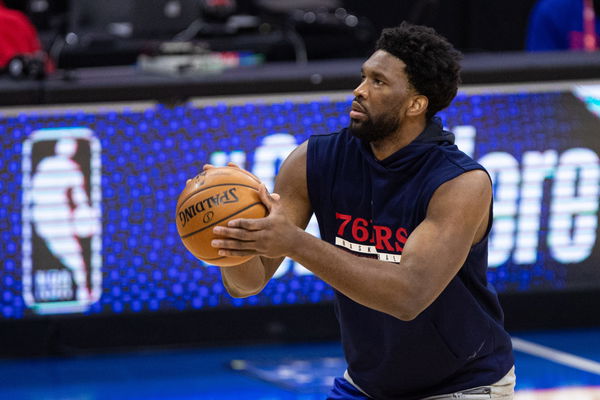 Joel Embiid was at the brim of winning the league MVP last year when an ACL injury got better of him. There have been enough instances where the star has missed out on winning opportunities to tag him a choker. However, on the court of love, the man has won much more than he could've asked for.
The man is an ideal son, a proud father, a perfect brother, and a hopeless romantic with his girlfriend. He has a very balanced off-court life where he has his people who look at him much more than a potential champion. Believe it or not, the entry of a heart-lock in his life has tons to do with everything 'aim-beat'. Pun intended!
ADVERTISEMENT
Article continues below this ad
How did Joel Embiid meet Anne De Paula?
Joel Embiid found his treasure even as he was not looking for one, just a matter of beautiful and life-altering coincidence. The duo attended a dinner party in 2018 that a mutual threw for them in the city of NY. Funnily, Anne took time to guess he was a basketball player when the 7-footer stood up from his table.
Later, they magically took off, facetiming and giving their understanding of each other some time. That the couple loved soccer and spoke French helped them thank their stars as they perhaps saw it as a good omen. 
Anne soon fell for the groundedness of the star player as she stated in an interview, "He just has this personality where he wants to motivate you… That's the type of person you want to have around." 
Certainly, that is one reason why Anne is a successful model with Wilhemina Models and is a star in her own way. That's like the match made in heaven and justified perfectly on Earth.
A moment that showed a mirror to his priorities
One part of being a lover is staying with your love interest, no matter what. The very reason why Joel Embiid's dad, a former handball player, happily approves of their relationship. The couple welcomed a little sunshine in September 2020 and named him Arthur. Now, this is a special name because Joel named him after his late brother, who died in an unfortunate accident.
ADVERTISEMENT
Article continues below this ad
Also, a defining moment that proves the couple's true love was when Anne De Maria comforted the star after a brutal 2019 playoff loss to Kawhi Leonard's Raptors. That history repeated when Joel hurt his knee in the 2020-21 season. That was when Anne figured that they've produced a gem together.
About Arthur's reaction to the event, Anne revealed in an interview with Ramona Shelburne, "Arthur sleeps through the night, every night. But he woke up crying hysterically, almost like he had a nightmare." So after the game, Embiid in pain still found time to check his phone for the baby monitor. 
ADVERTISEMENT
Article continues below this ad
Do you see them as the cutest NBA couple out there? Help us know in the comments section below.
Watch this story – Vernon Maxwell, Joel Embiid, and Other NBA Stars Who Picked a Brawl with Fans