Joel Embiid Tags Himself as 'Dominant' and Compares Self to Lakers' Shaquille O'Neal
Published 04/13/2021, 7:30 AM EDT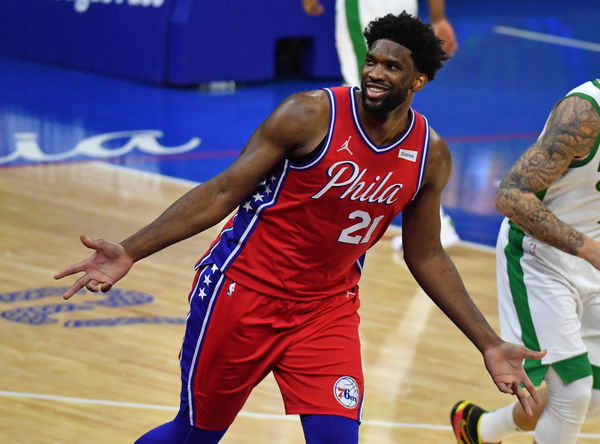 ---
---
The one personal accolade that keeps the NBA players the most motivated is the MVP award. It is not easy to beat 449 individual athletes to win an award that is a dream for almost everyone entering the league. This year, Sixers' Joel Embiid, among another handful of athletes, is the top prospect to win the recognition.
ADVERTISEMENT
Article continues below this ad
Joel came into the season in a ravishing form and started dropping career-high numbers from the first go. He looked much like a better version from his 2018-19 self and hence entered the MVP conversation. So how strong is his case?
Joel Embiid endorsed himself
ADVERTISEMENT
Article continues below this ad
If it was not for a performing Joel Embiid, it would have appeared like blowing one's own trumpet when The Process recently praised his game. On Monday night, the Sixers sent the Mavs packing after a ruthless 113-95 win. Their star center scored 36 points in 26 minutes and diluted Luka Doncic's 32-point effort. 
In a recent media conference, the 27-YO athlete compared himself to Shaquille O'Neal and said, "Shaq was extremely dominant, and that's what I've been this season: dominant."
Interestingly, Shaq was the last center to win the MVP award 21 years ago, when he also won his first NBA title. That year, the Big Aristotle averaged his career-high 29.7 points coupled with 13.6 rebounds, 3.8 assists, and 3 blocks per game.

Notably, he played 79 games that season, seven more than the maximum 72 allowable games this season. So is it that Joel Embiid can win the MVP as a center and also take his team to the NBA finals? Well, there are many roadblocks in the sight.
Read also – Julius Erving Explains How 76ers Cannot Win the Championship Without Joel Embiid
The Sixers' leader vs other names
Putting aside the case of Stephen Curry, Luka Doncic, Damian Lillard, or Kyrie Irving, there still are many names that can haunt Joel's ambitions. LeBron James almost controversially missed out on becoming last year's MVP, and so he is again in contention. Giannis Antetokounmpo is yet again a stat giant who can engulf others to complete a three-peat of MVPs. Nets' James Harden has already self-claimed his chances of being the ultimate winner.
ADVERTISEMENT
Article continues below this ad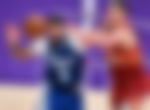 But one name that can most harm Joel Embiid's dream of lifting the coveted trophy is Nikola Jokic. Another center player, the Serbian seems more deserving on the paper. He has played in all the 53 games for the Nuggets and has averaged 26.2 points, 10.9 rebounds, 8.8 assists, and 1.5 steals. His impact on his team is very huge, and the narratives support him as well.
Can Joel Embiid, averaging close to 30 points but not keeping up as healthy, defeat such close competition? Only time will tell. 
ADVERTISEMENT
Article continues below this ad
Still, as per you, who must win the MVP trophy? Help us know in the comments.