Phoenix Suns Legend Describes Why Nikola Jokic is His Favorite Player in the Modern Era
Published 03/25/2021, 7:30 AM EDT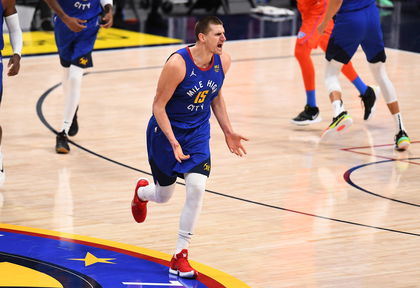 ---
---
Most of the time, the conversations around the league favorites only revolve around names like LeBron James, Kevin Durant, Steph Curry, James Harden, or Kawhi Leonard. However, one name that often misses mention is that of Denver Nuggets' Nikola Jokic. The Serbian comes out of hibernation every year to damage the defense of every team.
ADVERTISEMENT
Article continues below this ad
The world knows Joker for his creative passing abilities and unmatched court vision. He is the Batman to Jamal Murray's Robin with the ability to win games single handedly. Still, not many list him as their favorite player to watch. But is there anyone who does?
What capabilities make Nikola Jokic the most watchable player?
ADVERTISEMENT
Article continues below this ad
Dan Majerle, 55, a former Phoenix Suns legend, keeps his highest regard for former rival Michael Jordan. He also sees a GOAT in the making in LeBron James and another great player in Steph Curry. However, when it comes to entertainment, he chooses Nikola Jokic over everyone.
In a recent interview, the 55-YO legend expressed, "Joker from Denver… I love guys who have a high basketball IQ. I just fixate on him and just the way he's thinking. He sees plays two or three steps before anybody else. Just the passes that he makes and his vision. Sometimes, he'll catch the ball, just stand there and he'll make a quick move, or he'll dribble and he'll fake you and then drop a pass, just his mental IQ, I just love watching him play. Defensively, he is slow, but he is always in the right position. You don't do that if you're not thinking the game and that's what I love watching, guys who think the game. He is the best at it by far."
The Cookie Monster is a player that can even give even great defenders like Draymond Green a run for their money. He is basically a center player who plays like a point guard as well.
Read also – Phoenix Suns' Legendary Player Remembers the Time When Michael Jordan Schooled Him in the 1993 NBA Finals
Denver Nuggets riding on Jokic's broad shoulders
An eye-opening stat about Nikola Jokic's current season describes how he is a literal do-it-all monster. Currently, the Nuggets are #5 in the WC with a 26-18 record and have a real chance to move up. In these 44 games, Jokic has played 43 and is leading the team in as many as 10 parameters. He is averaging 27.1 points, 11.3 rebs, 8.6 assists at a 57.1% FG and 42.7% 3P. Those MVP figures are better than anyone on his team.
ADVERTISEMENT
Article continues below this ad
Does this not say a lot about this elite ball passer? He can pass accurately from a 90-ft range and manipulate defenses with fake-look passes. It is very tough to share the floor with a 7-footer who can play any position. Certainly, Joker is an entertaining player and will do great things going ahead!
ADVERTISEMENT
Article continues below this ad
Read also – Nikola Jokic on the Path of Mavericks Icon Dirk Nowitzki, Reveals Future Plans with Denver Nuggets