Phoenix Suns Set a Forgetful NBA Finals Record after Losing Game 4 to the Bucks
Published 07/15/2021, 1:30 AM EDT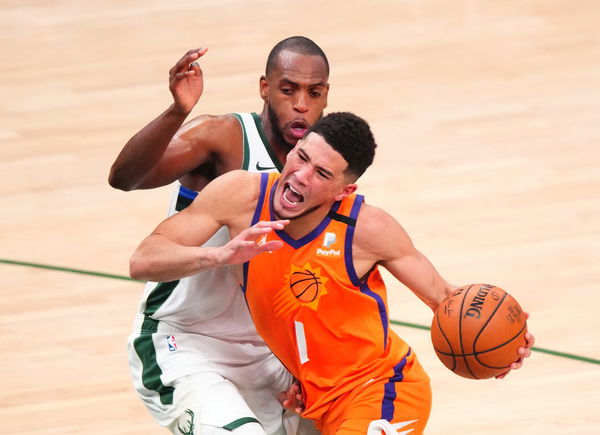 ---
---
After the Phoenix Suns defeated the Bucks in their two home games, the critics were quick to jump on the bandwagon and count Milwaukee out. But the following two games showed them the mirror and proved that Giannis Antetokounmpo and men are as clutch as it gets.
ADVERTISEMENT
Article continues below this ad
The Bucks, in the presence of Kareem Abdul-Jabbar and Oscar Robertson, won Game 4 and kept their championship dream very much alive. Did they have a flawless game? Certainly not, but it was good enough to drill a hole in the Suns' boat. 
ADVERTISEMENT
Article continues below this ad
Phoenix Suns created an NBA Finals record that won't make them proud
The Suns saw Devin Booker going crazy from the very first minute. The star scored 38 points in the first three quarters with 18 points in Q3 at 7/7 from the field. In just 38.5 minutes, Book scored 42 points at 60.7% shooting and took 28 of the team's 78 FG attempts. 
The visitors went 51.3% from the field as opposed to the home team's 40.2%. This massive gap in efficiency and still a winner in the poorly scoring squad got the Suns a unique record – 
Suns: 51.3 FG%
Bucks: 40.2 FG%

The Suns are the first team in NBA history to lose a Finals game despite shooting better than 50% and holding their opponents below 42%. pic.twitter.com/T6hdinNCGc

— StatMuse (@statmuse) July 15, 2021
But interestingly, the field shooting percentage does not reveal the entire story. Turns out the Suns were pathetic in terms of their offensive rebounding and their turnovers. The Phoenix squad registered just 5 offensive rebounds against the Bucks' 17 and also invited 17 turnovers to Milwaukee's 5.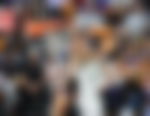 Khris Middleton and those final minutes that inflicted all the harm
With over five minutes remaining into the game, the Suns were 95-90 ahead. However, an insane defense from the Bucks and a dominant offensive game from Khris Middleton led to Downtown enjoying a 19-8 run. It's true that Devin Booker did not play for five middle minutes in that quarter but he was present when Khris was generating 'Khash Money'.
ADVERTISEMENT
Article continues below this ad
In the final 28 seconds, Middleton dragged the 2-point game into a victorious lead with six impressive clutch points. In fact, he was the only player from the Bucks' starting five who could convert three-pointers. Him and Giannis Antetokounmpo combined 66 points and that made all the difference.
Do you see the Suns bouncing back after such poor defeats and a struggling Chris Paul? Help us know in the comments.
ADVERTISEMENT
Article continues below this ad
Watch this story – Heated Moments of the Bucks' Giannis Antetokounmpo in the NBA Playoffs
Trending Stories